Workstation combines 4-channel DSO with PC flexibility.
Press Release Summary: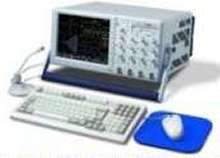 Upon trigger, Ultima 500 automatically transfers data to Excel, ProView, or imPRESSion and displays it in dual-video mode: analysis results on external monitor and acquired data on internal display. DataSentry(TM) provides remote monitoring and unattended operation, while IntelliProbe(TM) interface offers differential and current probes. Ultima offers up to 2 GS/s sampling rate, 12-bit high-resolution mode, 1 million points of data storage per channel, and 500 MHz bandwidth.
---
Original Press Release:

Ultima DSO Workstation Adds More Power


Remote monitoring, auto data transfer and dual video mode among added features

Madison, WI - Gould Instrument Systems, introduces "remote monitoring", "auto data transfer" and "dual video mode" among the many new features recently added to the already powerful DSO Workstation, Ultima 500. Combining a high performance 4-channel DSO with the flexibility and features of a PC, the Ultima 500 makes data handling even easier and data display even better.

o Upon trigger, data is automatically transferred to Excel, ProView or imPRESSion and displayed instantaneously for advanced time and frequency analysis, data logging, and custom reports. It's effortless data transfer. No more cumbersome file conversions.

o Ultima's dual video mode displays Excel, ProView or imPRESSion analysis results on an external monitor and just the acquired data on the internal display simultaneously.

o For remote monitoring and unattended operation, Ultima offers DataSentry(TM) for long distance troubleshooting. DataSentry(TM) automatically saves, prints or sends data via Ethernet, USB or modem to your email address at set times or upon a trigger.

o Ultima's IntelliProbe(TM) interface offers a unique new series of high performance differential and current probes that place the amplifier at the signal source enabling greater probe accuracy, automatic probe calibration, and negligible circuit loading.

Ultima offers a true 500MHz bandwidth at the probe tip, up to 2 GS/s sampling rate, 12bit high resolution mode and 1 Million points of data storage per channel. Internal floppy and hard drives, coupled with 100Mbit/s Ethernet, USB and PCI connectivity enables unlimited data storage and communication. It's the Ultimate DSO!

Gould Instrument Systems, a Thermo Electron Company offers state-of-the-art electronic instrumentation used in automotive, power, aerospace, and other research applications.

U.S. prices begin at $13,000. Delivery 4 weeks ARO. Visit kvw'w.gouldis.com
For complete details, contact Mike Hoyer at 608-327-6643, fax 608-327-6700.
Gould Instrument Systems, 52254 Verona Road, Madison, WI 53711, USA

More from Computer Hardware & Peripherals