Wizard-based Portal helps users program motion applications.
Press Release Summary: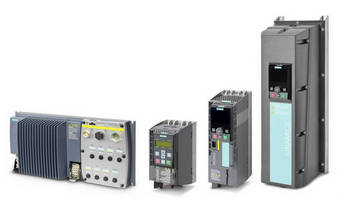 Totally Integrated Automation Portal's configurator navigates users through programming control system and drive paramaterization. Once wizard is completed, application is commissioned. Functionality eliminates dual entries, communication is automatically established, and data is consistent. Along with control programming and visualization, solution includes Sinamics Startdrive for drive engineering. All generated components in application library can be saved via drag-and-drop operation.
---
Original Press Release:
Motion Control Was Never as Simple as This
Perfect interaction between the control system and the variable frequency drive

Imagine an application, where using a variable frequency drive you can implement positioning within a complex system. In the past, applications such as these, for example a positioning conveyor belt or a handling system, required several tools with different operating philosophies. In fact, different experts even had to use several tools from the same manufacturer with high associated training time and costs. Now, such an application can be simply implemented based on one system, without having to change tools.

Fast and efficient control and drive engineering
The Totally Integrated Automation Portal (TIA Portal) from Siemens makes it very simple for users to program motion applications. This is done based on a configurator, which navigates users through programming the control system and drive paramaterization. The complete application has been commissioned once this intuitive wizard has been completed. Dual entries are a thing of the past, communication is automatically established and data is consistent. Since the release of TIA Portal version 12, Sinamics Startdrive is included for drive engineering, in addition to the other features offered by the TIA portal, such as control programming and visualization.

The user can save all of the generated components in the application library of the TIA Portal just as intuitively by simply dragging and dropping. This approach simplifies creating an application as well as its duplication and subsequent service.

Another advantage of this seamless drive integration becomes clear when it comes to diagnosing the plant or system. If a drive failed, in the past, the fault had to be localized and analyzed online using a special drive diagnostics tool – a tedious procedure. In the best case scenario, an engineer programmed a diagnostics function — which in itself involves a considerable amount of time — in order to accelerate this process. All of this was necessary, as drives and controls were commissioned in different systems, and also had to be diagnosed in these different systems. However, these problems are now a thing of the past. In addition to diagnosing the control, the network and the human machine interface (HMI), the drive messages are now automatically available system-wide and without requiring any programming. The drives can be diagnosed in the engineering system, in the control, in the web server as well as in the HMI without requiring any programming.

In addition, Sinamics G120 drives have a powerful trace function so that faults can be precisely diagnosed. Using the trace function, each individual drive parameter can be monitored and  precisely recorded – just the same as when using an oscilloscope, only far more conveniently and efficiently. Since the trace is permanently recorded, you can monitor the relevant parameters during, and briefly before, a fault condition, and that without any additional overhead. This represents an invaluable resource for fast diagnostics, therefore reducing downtimes. Parameterizing the trace is graphically supported and is identical to the trace used in the Simatic S7-1500 PLC: this guarantees simple operation and a short time to get to know the system.

This unique engineering efficiency of the TIA Portal reduces training costs, engineering and service times, increases the productivity of the plant or system and at the same time reduces costs. This is a level of efficiency, that has been made possible as the control and drive technology were developed together and have been optimally harmonized and coordinated with one another.

Motion control with just one engineering software — step-by-step
Motion control was never as simple as this. The following sequence demonstrates the steps required to program motion functionality for an axis when using Simatic S7-1500 and Sinamics G120. This clearly shows the advantages of this type of application engineering:

• The complete project hardware is entered into a common editor and configured. Networking via Profinet is graphically realized by dragging and dropping, which simply connects the various module interfaces. The hardware and network are simply configured by just entering the appropriate IP addresses. As an alternative to configuring offline, the hardware can also be read out of the system or machine online. This is done by simply searching for the accessible participants in the network and then loading them into the project.

• After the hardware has been configured, a "Positioning axis" technology object is created to configure the positioning function in the Simatic S7-1500. A Wizard guides you step by step when configuring the virtual positioning axis. Configuring the technology axis is independent of the hardware assignment, which is to be moved using this virtual axis. This approach offers a very high degree of flexibility and reusability. To assign the hardware, all of the configured and networked drives are conveniently listed for selection. The required drive can then be simply selected. The power unit of the drive can also be selected here, if this was not already done when configuring the hardware. A Simotics motor can be conveniently selected from a catalog. Additional settings on the drive side, for example configuring the telegrams and the times for the up and down ramps are not required. This is because the drive parameters are automatically pre-assigned in the programmable logic controller (PLC) as a result of the control via the positioning axis.

• Transparent and comprehensive graphic user interfaces are available to parameterize additional drive functions. For instance, the drive-side safety technology, interconnecting the inputs and outputs in the drive, integrated technology controllers or the function blocks available to program various additional functions. It goes without saying that the same is true for the positioning function in the drive, if this is used instead of programming the positioning function in the PLC. The graphic parameterizing screen forms also show the signal flow from the setpoint to the motor, and offer a wide range of convenient options to manipulate the setpoint, such as limiters, filters etc. As a consequence, the full functional scope of Sinamics drives is simply and graphically supported. Further, for expert users who want to make precise settings, a list of all of the drive parameters is available, transparently structured according to function groups. Using a comparison function, it is possible to compare all of the drive parameters that have been configured with the factory setting. This functionality allows differences to be efficiently identified.

• All of the functions required to commission the drive are available, transparently grouped. The online connection is realized in the TIA Portal for all devices (PLCs, HMIs and drives) in the same way. The connection to the drive is just as simple and intuitive. The motor can be tested by operating the drive directly from the programming device using the control panel. Further, the commissioning editor includes resources for optimizing the drive, backing up and archiving the device settings. The comprehensive trace or oscilloscope function integrated in the drive allows two trace jobs to be recorded, with up to eight drive parameters. This is extremely helpful when commissioning the drive to optimize the controller, as well as when service is required. The trace jobs can be configured in Sinamics Startdrive, loaded into the device and the recorded data can be graphically displayed. The graphic evaluation of the signals is supported by comprehensive zoom functionality and other display options. The recorded data can then be loaded into the project, and when required, exported as XML file. Based on the principle of the TIA Portal, the trace editors for Sinamics drives and Simatic S7-1500 PLCs are identical, enabling users to get to know the system very quickly.

• Alternatively, the drive can be completely commissioned without the project. Using the list of the participants available in the network, the drive can be simply found and parameterized. With Sinamics Startdrive, the same commissioning Wizard and all graphic parameterizing interfaces are available for accessible participants, as well as the devices inserted in a project. The list of accessible participants is especially suitable when it comes to service and diagnostics. This is because diagnostic functions are available here, for example the fault list including the acknowledgment options, as well as the screen forms with the status and control words. As a consequence, the original project is not absolutely necessary for service calls.
• After the drive has been commissioned, the configuring of the "Positioning axis" technology object can be continued in the Simatic S7-1500. It goes without saying that this can also be realized before the drive is commissioned. In our example, for the encoder evaluation, the counter module is assigned to the Simatic ET 200SP, the data transfer to the drive and the reference speed, as well as the encoder telegram for the communication to the counter module, are set. Using prompted configuration, all of the necessary steps for the additional settings are performed, graphically supported. These include settings for the mechanical system, position and dynamic limits, Emergency Stop ramp, homing, position monitoring etc. All of the appropriate default settings are made.

• A motion library with PLCopen blocks is available to control the positioning axes. These blocks allow functions to be conveniently programmed in Step7. As a consequence, the TIA Portal with Sinamics Startdrive in Version 12 offers an integrated and user-friendly engineering platform to implement motion control tasks.

Numerous applications supported using configuration software
The complete Sinamics G120 family of drives up to 250 kW is already integrated in the TIA Portal with Startdrive V12, offering all of the previously mentioned advantages, including simplified handling. You can now implement pump, fan and compressor applications extremely efficiently and intuitively. The same is true for HVAC as well as water and wastewater systems.

Vertical motion, such as elevators, cranes and handling systems are also possible. Using integrated motion functions, you can efficiently implement motion control in a completely integrated fashion. It doesn't make any difference as to whether the motion functions are implemented in the control or the drive, the only thing that is required is the TIA Portal.

Conveyor and warehouse systems represent another large group of completely integrated applications. In addition to the intuitive engineering, users have the option of selecting the optimum components from a wide range — no matter whether IP20 components for mounting in control cabinets or rugged IP65 components to be directly mounted at the machine.

The TIA Portal allows Simatic controls to be efficiently combined with Sinamics drives. Common functions, for example the online behavior, the library, and also the well thought-out user interface reduce training and engineering times. Automatic data consistency and cross-system functions, for example diagnostics, reduce faults, shorten downtimes and when all is said and done, increase the productivity of the plant or system. The combination of Simatic S7-1500 with integrated motion functionality for single-axis positioning and the Sinamics G120 drive shown here fully utilizes all of these possibilities. This provides a wealth of benefits for users and sets a benchmark for application engineering.

For more information on this story, please contact: 
SIEMENS INDUSTRY, INC.
Drive Technologies — Motion Control
390 Kent Avenue
Elk Grove Village, IL  60007
Phone: 847-640-1595
Fax: 847-437-0784
E-mail:  SiemensMTBUMarCom.industry@siemens.com
Attention:  John Meyer, Manager, Marketing Communications
Web:  www.usa.siemens.com/motioncontrol
Twitter:  www.twitter.com/siemens_dt_us
Facebook:  www.facebook.com/siemens.dt.us

PR agency contact:
Tim Daro
Bernard & Company
847-934-4500
tdaro@bernardandcompany.com
More from Packaging Products & Equipment