Wireless DAQ System offers Modbus RTU data output.
Press Release Summary: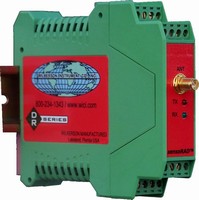 Acting as standard DAQ device or repeater, DR9051R wireless transmitter provides analog and contact closure data to DR9050 controller. Latter acts as portal between Modbus Master Controller and from 1-247 remote transmitters. It outputs standard Modbus RTU data via RS485/422 data port and can be wired in parallel with other Modbus products. Combined DR9050/DR9051R system offers choice of 3 radio frequencies, 2 in 915 MHz ISM band and one in 2.4 GHz band, that use SSFH technology.
---
Original Press Release:

Wireless Data Acquisition System with 1 to 247 Remote Transmitters Provides Analog and Contact Inputs with Modbus RTU Data Output



The DR9051R wireless transmitter provides analog and contact closure data transmission to a DR9050 Controller. The DR9050 acts as the portal between a Modbus Master Controller and from 1 to 247 remote transmitters. The DR9050 outputs standard Modbus RTU data via an RS485/422 data port.

The DR9050 can be wired in parallel with other Modbus products to create a system that includes the wireless data acquisition as well as hard wired products. A single connection to the DR9050 allows access to all the DR9051R products in the system.

The analog inputs available are dual channel DC voltage or currents, single channel RTD, or strain gauge bridge inputs. The bridge version provides 10VDC precision excitation for up to four 330 ohm bridges.

The DR9051R has the ability to act as a standard data acquisition device as well as a Repeater which can allow communications with a DR9051R that is obstructed to the DR9050.

The DR9050/DR9051R system has a choice of 3 radio frequencies; 2 in the 915MHz ISM band and 1 in the 2.4GHz band. All use spread spectrum frequency hopping technology. Each RF module has a choice of 7 Hop sequences. This allows up to 21 systems to operate in the same locale without interfering with each other. With proper antennas and installation, the 915MHz units can function reliably over a 20 mile range. Full documentation can be read and downloaded at sensorad.com.

Wilkerson Instrument Company, Inc, which is celebrating its 25th birthday this year, designs and manufactures these products at 2915 Parkway Street in Lakeland, FL 33811.

For more information contact:
sales@wici.com
800 234 1343
sensorad.com

More from Machinery & Machining Tools