Weld Inspector integrates UT and phased array technology.
Press Release Summary: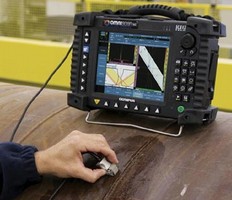 Manual Weld Inspection Solution is used when phased array technology needs to be integrated in NDT inspections. OmniScan v2.1 software, included, has phased array interface and includes RayTracing feature for visual display of phased array beams. Along with Weld Overlay feature for data interpretation, software includes UT sizing curves and AWS/API code wizards. WPS series phased array probes are also included, with housings and wedges that allow inspections close to weld crown.
---
Original Press Release:

Olympus NDT Introduces a Manual Weld Inspection Solution that Includes Conventional UT and Phased Array



Waltham, MA, April 23, 2008 - Olympus NDT, a world leader in nondestructive testing technologies, introduces a new Manual Weld Inspection Solution that includes conventional ultrasound and phased array ultrasound. This integrated weld inspection solution includes new software for the field-proven OmniScan flaw detector and a new line of phased array probes, the WPS series. The software and new probes have been developed for weld inspectors who would like to integrate phased array technology in their NDT inspections.

The new OmniScan 2.1 software has a simplified phased array interface and includes an intuitive RayTracing feature that provides a clear visual display of the phased array beams in the weld area and a Weld Overlay feature to simplify data interpretation. The software also includes conventional UT sizing curves (DAC/TCG, ASME, JIS, DGS) and AWS and API code wizards.

Olympus also introduces the new WPS phased array weld inspection probes consisting of the A10, A11, and A12 series. Their ergonomically designed probe housings and wedges have a small footprint to allow inspections close to the weld crown. The DGS Phased Array probe fully meets DGS requirements and performs an inspection sweep from 45º to 70º using one integrated probe/wedge design. The AWS phased array probe creates a nominal 60º shear wave in steel and covers the inspection angles of 45º, 60º and 70º as required by AWS regulations.

About Olympus NDT
Olympus NDT provides an industry-leading portfolio of NDT solutions featuring innovative ultrasonic testing (UT), eddy current (ET), and related nondestructive testing technologies. Our goal is to supply reliable and economical inspection and maintenance systems globally that enhance environmental and personal safety, security, and productivity for customers, and that also contribute to society. We are committed to actively pursuing the development of new technologies, products, and services offering the best solutions to a large variety of customers' needs.

The Olympus NDT head office is located in Waltham, Massachusetts, USA. The company is represented by an extensive network of branch offices and representatives in all the major industrial regions of the world.

For more information please contact:

Meindert Anderson
Marketing Communications Manager
Olympus NDT
(1) 781-419-3900
meindert.anderson@olympusNDT.com