Wear Resistant Nanoparticle Coating targets plasticating screws.
Press Release Summary: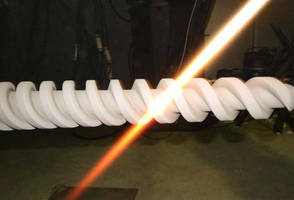 Available for single and twin plasticating screws, Xaloy® MPX™ thermal spray coating is made up of particles 5 microns in diameter and resists abrasive and corrosive wear. Particles, consisting primarily of tungsten carbide, are densely packed due to uniform spherical shape. Particle size, coating density, and application velocity promotes bond strength with parent metal of screw. With near-zero porosity, coating survives >1,000 hr of salt fog testing. Standard layer thickness is 300 microns.
---
Original Press Release:
New Nanoparticle Coating for Plasticating Screws has Greater Wear Resistance than Standard Thermal-Spray Tungsten Carbide
Nordson's Xaloy® MPX™ Technology for Single and Twin Screws Provides Improved Abrasion and Corrosion Resistance, with 61% Less Mass Loss in Abrasion Tests

NECKARSULM, GERMANY: A technology that uses exceedingly tiny tungsten carbide spheres barely larger than the particles in cigarette smoke has yielded a coating for single and twin plasticating screws that resists abrasive and corrosive wear better than standard coatings applied by high-velocity oxygen fuel (HVOF) thermal spray. Nordson Corporation will introduce the technology at K 2016 (Hall 11, Stand A26).

The new Xaloy® MPX™ thermal spray coating from Nordson is made up of particles only 5 microns in diameter. Consisting primarily of tungsten carbide, the particles are six to seven times smaller than those in standard HVOF coatings and more densely packed owing to a uniform spherical shape produced in a controlled plasma process. The combination of ultra-fine particle size, higher coating density, and a 2.5 times greater application velocity results in a stronger bond with the parent metal of the screw and improved resistance to wear.

Compared with standard HVOF tungsten carbide coatings, the Xaloy MPX technology exhibits 61% less mass loss in ASTM G65 abrasion testing, 18% less mass loss in ASTM G77 sliding wear testing, and 8.5% greater bond strength in ASTM C633 bond testing. As an example of corrosion resistance, the Xaloy MPX coating survived more than 1,000 hours of salt fog testing, in part because of its near-zero porosity.

"Nordson's Xaloy MPX screw coating provides best-in-class wear protection compared with standard HVOF coatings, and its higher bond strength eliminates potential for chipping," said Mark Colella, global product manager for the Xaloy brand. "This new technology extends the working life of screws in extrusion and injection molding, enabling processors to work with some of today's most challenging materials."

Nordson recommends the Xaloy MPX technology for resisting abrasion from compounds with medium (15 to 35%) filler loadings and for resisting corrosion from halogenated materials, including flame retardants and PVC. For filler content above 35%, Nordson supplies the high-hardness coating Xaloy® X-8000™.

New Xaloy MPX technology can be employed across the full range of screw diameters and may be applied to the entire screw or to specific areas. Standard layer thickness is 300 microns, with variations depending on the area of the screw. The MPX screw coating should be used with a barrel lined with Nordson's Xaloy® X-800® nickel / tungsten carbide alloy or a comparable inlay.

Xaloy MPX technology expands Nordson's offering of screw encapsulations for high-wear applications. The Xaloy® X-8000™ coating is a nickel-based alloy with high tungsten carbide content that is first applied in an HVOF process, then fused to the parent metal of the screw to form a metallurgical bond.

Nordson Corporation engineers, manufactures and markets differentiated products and systems used for the precision dispensing of adhesives, coatings, sealants, biomaterials, polymers,  plastics and other materials, fluid management, test and inspection, UV curing and plasma surface treatment, all supported by application expertise and direct global sales and service.  Nordson serves a wide variety of consumer non-durable, durable and technology end markets including packaging, nonwovens, electronics, medical, appliances, energy, transportation, construction, and general product assembly and finishing.  Founded in 1954 and headquartered in Westlake, Ohio, the company has operations and support offices in more than 30 countries.  Visit Nordson on the web at http://www.nordson.com, @Nordson_Corp, or www.facebook.com/nordson.

Nordson Polymer Processing Systems provides customers with engineered components to melt, homogenize, filter, meter, and give shape to plastic and fluid coating materials. Nordson Corporation leverages the collective plastics industry experience from a series of strategic acquisitions to offer a uniquely broad portfolio of industry-leading technologies.  Nordson delivers a full range of precision melt stream products — from screws and barrels for extrusion and injection molding — to filtration systems, pumps, and valves — to the extrusion dies and pelletizing systems to meet the constantly evolving needs of the polymer industry.

Nordson Corporation provides customers with local technical sales, service and remanufacturing capabilities through sales organizations and regional manufacturing facilities in over 30 countries.  To learn more visit us at http://www.nordsonpolymerprocessing.com or www.facebook.com/NordsonPPS.

Robert J. Martino
Martino Communications Inc.
8 Main Street / P.O. Box 379
Hastings-on-Hudson, NY 10706 U.S.A.
Tel: 1-914-478-0754
Email: bob@martinocommunications.com
www.martinocommunications.com
More from Electrical Equipment & Systems