WaterPro® RO Station Features Fast Delivery and Timed Dispensing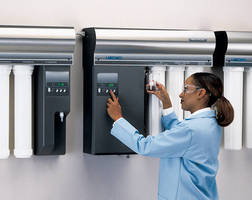 WaterPro RO Station is for point of use production of laboratory grade reverse osmosis water. It's large capacity filters and membrane produce high-quality reverse osmosis (RO) purified water at a rate faster than any other laboratory system available. Water is produced on demand and may be dispensed at a typical rate of 1 liter per minute (at inlet water at 25ºC). RO purified water is ideal for reagent preparation, basic life science work, and glassware rinsing. Water may be dispensed manually from a valve or an optional gun. The timed dispense feature allows unattended operation. Set the timer up to 99.9 minutes, press the dispense button and the valve dispenses until set time expires.

The integral 17 liter tank and an outlet port for connection to Labconco's SteamScrubber® or FlaskScrubber® Laboratory Glassware Washer holds ample volume to supply pure water for final rinse cycles.

The WaterPro RO may also be used to produce laboratory grade feedwater for final purification by a polishing system such as the WaterPro PS Polishing Station and to allow dispensing of both RO-purified and Type I water.

For more information on WaterPro Water Purification Systems, call Labconco Corporation at 816-333-8811, or download the catalog at www.labconco.com.


More from Test & Measurement