Water Sampling Systems come in fixed and portable designs.
Press Release Summary: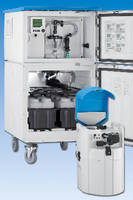 Suited for monitoring influent and effluent at water/wastewater treatment plants, stationary Liquistation CSF48 and portable Liquiport CSP44 accept hot plug-and-play inputs from 2 digital sensors to measure nitrates, conductivity, oxygen, pH, ORP turbidity, or suspended solids. Stationary unit can be supplied with 17 bottle configurations, while portable unit can be supplied with 6. Both include 2 analog inputs, 2 binary inputs, 2 binary outputs, backlit display, SD card, and CDI-interface.
---
Original Press Release:

Endress+Hauser Announces Water Sampling Solutions



Fixed and portable samplers are designed for water and wastewater treatment, compliance monitoring and process reliability applications.

Endress+Hauser announces its line of water sampling solutions for monitoring influent and effluent at water/wastewater treatment plants and in industrial process water applications. Other applications include municipal, industrial and surface water sampling. The water sampling line includes the Liquistation CSF48 stationary unit and the Liquiport CSP44 portable unit.

The units accept "hot plug and play" inputs from up to two Endress+Hauser's Memosens digital sensors to measure parameters such as nitrates, conductivity, oxygen, pH, ORP turbidity or suspended solids. The same unit can be used to simultaneously measure multiple parameters just by changing sensor types. Each sensor simply plugs into a unit and can be configured from the multilingual display using PC-like menus. Each unit can store up to 100 programs, and can run up to 24 programs at a time.

In addition to the two Memosens digital inputs, base units come with two analog inputs, two binary inputs, two binary outputs, backlit display, SD card and a CDI-interface. The stationary unit can be supplied with 17 different bottle configurations, and the portable unit can be supplied with six different bottle configurations. A base unit can be updated by the user in the field into a complete monitoring and sampling station.

Typical analog inputs could be from a flowmeter, a rain gauge or any other measuring device with an analog output. Typical binary inputs could be pulses from a flow meter where each pulse represents a certain volume.

For the stationary unit, options also include a choice of interchangeable sample pumping technologies: vacuum or peristaltic. The portable unit is only available with a peristaltic pump. The pumps are simple to maintain and require no tools for routine maintenance. The peristaltic pump meets the EPA's recommended linear velocity of 2 ft/s (0.6 m/s) at up to 26.3 ft (8 m) head height.

The sample volume can be adjusted from 10 to 9999 ml. Sampling can be programmed to occur based on time, flow or flow-paced time override. The suction line can be rinsed up to three times. Options are available for sampling from pressurized pipes.

Sample bottles are kept in temperature-controlled storage in a two-door housing for reliable temperature regulation. Dual-bottle trays make it easy to retrieve, replace and transport samples to the lab. Bottles are available in sizes from 1 liter to 30 liters, in plastic or glass. All parts that transport liquid including the distribution arm, the dosing system and the distribution plate can be removed and cleaned easily without the need for additional tools.

The UL/CSA/CE approved 24Vdc power supply is standard, battery backup is optional. The compact cooling system provides cooling efficiency to reach EPA recommended storage temperature of 39°F (4°C). Sample temperature can also be monitored. The modular cooling unit is easy to access due to its mounting location above the sample storage compartment.

Multiple housing materials are available to meet the requirements of demanding applications, while cost-effective materials are used for standard applications.


More from Software