Walter Offers Xtra-tec XT Milling Cutters with Screw Hole Cross-Section for Stabilizing the Indexable Insert
Press Release Summary: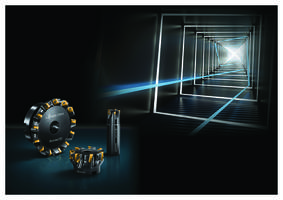 Feature indexable inserts placed at inclined position reduces the surface pressure in the seat
Available in 90 degree shape that reduces additional finishing operation
Uses Tiger·tec® indexable inserts with eight usable cutting edges
---
Original Press Release:
Walter Introduces Xtra•tec® XT: Next Generation Milling Tools with Increased Productivity and Process Reliability
Walter's new cutters bring an array of benefits for shoulder and slot milling.
Waukesha, WI—Walter has introduced its next generation of milling tools: the Xtra·tec® XT (the XT standing for "Xtended Technology"). Designed to achieve increased productivity and process reliability, this new generation of milling cutters is being launched with initial offerings of shoulder milling cutters and a face milling cutter. The mills cover virtually all requirements in shoulder and slot milling in all common material groups.
The key design feature of these new milling tools is the position of the indexable inserts, which is at a greater incline and with a larger contact surface. This reduces the surface pressure in the seat while increasing stability. Their larger screw hole cross-section stabilizes the indexable insert, and the longer screws hold it in place more securely. The cutter body has also been made more stable, as it now has more material behind the insert seat.
Along with greater process reliability, the new position of the indexable inserts also allows for the addition of an extra tooth, thereby increasing productivity. The precise 90° shape of the shoulder milling cutters helps reduce the need for additional finishing operations. The clamping screws, which are easier to access, optimize handling.
Another significant new feature is the smaller indexable inserts that can be fitted to the Xtra·tec® XT milling cutters, continuing today's trend towards reduced machining allowances. This applies especially to the Xtra·tec® XT M5009 face milling cutter, which combines small depths of cut with the advantages of the double-sided Walter Tiger·tec® indexable inserts. These inserts have eight useable cutting edges instead of the usual four providing increased efficiency plus fewer required finishing operations.
Walter, a global leader in the metalworking industry with over 90 years of experience in precision cutting tools for milling, drilling, turning, boring and specialized tools, helps customers improve process reliability and increase productivity. With Regional Headquarters in Waukesha, WI, Walter markets its competence brands Walter Valenite, Walter Titex, Walter Prototyp and Walter Multiply through a strong network of distributors and field engineers across subsidiaries in the USA, Canada, Mexico, Brazil and Argentina.
For further editorial information contact:
Kurt Ludeking, Director of Marketing
Walter USA, LLC
N22 W23977 RidgeView Pkwy West
Suite 100
Waukesha, WI 53188
800.945.5554 www.walter-tools.com/us
kurt.ludeking@walter-tools.com
More from Material Handling & Storage