Voltage Monitor has 22 mm DIN rail mounting enclosure.
Press Release Summary: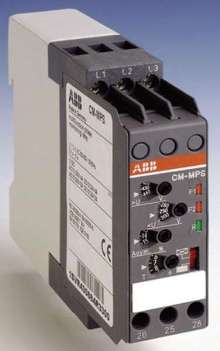 CM-MPS Series voltage monitor provides 3-phase motor protection in euro-style enclosure with built-in finger safe, double chamber, and terminal blocks that allow positive connections when 2 different wire sizes are used. Series monitors phase-to-phase voltages and protects against failure caused by phase loss, phase reversal, undervoltage, overvoltage, and unbalanced voltages. Features include adjustable trip points, time delay, and trip delay.
---
Original Press Release:

Three Phase Voltage Monitor In 22 mm DIN Rail Mounting Enclosure


The CM-MPS Series

ABB Low Voltage Products & Systems, designers and manufacturers of solid state controls, is pleased to announce the CM-MPS Series three phase voltage monitors.

The CM-MPS Series provides full 3 phase motor protection in a 22 mm wide DIN rail mountable package. This euro-style enclosure has built-in finger safe, double chamber, terminal blocks that allow positive connections when two different wire sizes are used.

The CM-MPS Series continuously monitors the phase-to-phase voltages. It protects motors and other sensitive 3 phase loads from premature failure and downtime caused by: phase loss, phase reversal, undervoltage, overvoltage, and unbalanced voltages. When all of the phase voltages are acceptable, the relay energizes and the green LED indicator glows. If a fault is detected, the relay de-energizes and two red LED indicators display the voltage faults that caused the unit to trip. In a typical application the voltage monitor de-energizes a motor contactor or sounds an alarm when a voltage fault is sensed. Reset is automatic after a fault is corrected.

The CM-MPS Series features a new and improved microcontroller circuitry that maintains protection even when waveform distortion and regenerated voltages are present. It is available for line voltages of 160/300 VAC 50/60 Hz and can be used with Wye and Delta connected loads and in 3 and 4 wire 3 phase systems. The isolated DPDT output relay contacts are rated 3 A
CM-MPS inductive @ 250 VAC.

The CM-MPS Series includes five user adjustments. The undervoltage and overvoltage trip points are separately adjustable. These set points define the acceptable operating voltage range. A 50 ms to 10 second adjustable time delay can be switch selected as a trip delay or a restart delay. The adjustable trip delay prevents nuisance tripping during momentary voltage fluctuations. The voltage unbalance is adjustable from 2 to 15%.

The CM-MPS Series is UL Listed, CSA Certified, and CE approved. It is backed by ABB's product warranty. The CM-MPS Series is available through ABB distributors throughout the world.

For more information, contact: ABB Low Voltage Products and Systems (888) 385-1221

More from Electrical Equipment & Systems