Vista System Presents: Bespoke Vista Light LED Illuminated, Impressive Menu Boards - a World Standard for Food Courts, Fast Food Chains and Restaurants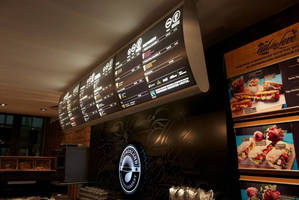 Vista Light LED illuminated menu boards are today's most prominent choice for any fast food restaurant and food courts in shopping malls, looking for a unique signage solution.



Combining a slanted aluminum wall frame, long lasting LED illumination, white-translucent polycarbonate graphic substrates and an elegant overall look – these menu boards are irresistible.



Vista Light is another amazing way-finding signage system from Vista System. All signs are enviromentally friendly, allow easy graphics change and hardly need any maintenance.



It is no wonder, then, that more and more sign professionals tend to state the obvious to their clients in search of this particular sign solution: Vista Light LED illuminated menu boards - why look anywhere else when the answer is right in front of you?!



For further information, visit www.vistasystem.com or contact Client Service at Vista System,

1800 N East Ave. Unit 102, Sarasota, FL, 34234 USA.

Phone: 800-468-4782 (941-365-4646 Internationally).

Fax: 888-316-5198 (941-955-2681 Internationally).

E-Mail: usa@vistasystem.com.

More from Software