Viega's New 45-Degree Elbows For Viega PEX Press Systems provide flexibility for larger tubing.
Press Release Summary: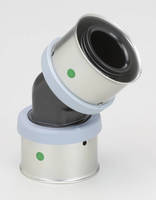 Available in 1 1/2" and 2" sizes, Viega PEX Press 45-degree elbows feature Viega's patented Smart ConnectR feature, which allows water to flow past an unpressed fitting. Suitable for use in commercial applications, Viega PEX Press is molded from Radel-RR, a superior plastic material. Factory assembled with attached stainless steel sleeves with three view holes, 45-degree elbows can be used with all Viega tubing, including: ViegaPEXTM, ViegaPEX Ultra, and Viega FostaPEXR.
---
Original Press Release:
Viega Introduces 45-Degree Elbows for Viega PEX Press Systems
Viega's new 45-degree elbows for Viega PEX Press systems allow users to install larger tubing with Viega's innovative press technology.

The new, polymer PEX Press 45-degree elbows are available in 1 1/2" and 2" sizes. The elbows feature Viega's patented Smart ConnectR feature, which allows water to flow past an unpressed fitting, providing installers with added confidence in their connections.

"Viega is excited to release another addition to our growing PEX Press product line," said Seth Larson, product manager, plastics at Viega. "The PEX Press 45-degree elbows will provide flexibility for larger tubing and is ideal for use in commercial applications."

The PEX Press elbows are part of Viega's growing line of products designed for commercial applications. Viega PEX offerings also include Viega PEX Press test plugs, PEX Press 90-degree flare elbows, PEX Press reducing tees and PEX pipe supports.

The Viega PEX Press is the only system on the market molded from Radel-RR, a superior plastic material. Viega PEX Press fittings are factory assembled with attached stainless steel sleeves with three view holes which helps installers insert tubing correctly, ensuring proper installation. Color-coded tool locator rings assure proper alignment of the press tool. The Viega PEX Press system can be used with all Viega tubing, including: ViegaPEXTM, ViegaPEX Ultra, ViegaPEX Barrier and Viega FostaPEXR.

About Viega:

The Viega Group, with a tradition of innovation for more than 115 years, has more than 4,000 employees worldwide and is among the leading manufacturers of pipe fitting installation technology. In metal press systems for industrial, commercial and residential projects, the company is the global market leader. In the U.S., Viega LLC employs nearly 500 people and offers more than 3,000 products. These include Viega ProPressR for copper and stainless, Viega MegaPressR for black iron pipe and Viega PEX Press systems in Zero LeadT bronze and high-performance polymer. Viega also specializes in the design, production and installation of ProRadiantT heating and cooling systems.

For more information, visit www.viega.us.

Editor note: Please send reader inquiries to: [email protected]