Video Receivers operate over multimode optical fiber.
Press Release Summary: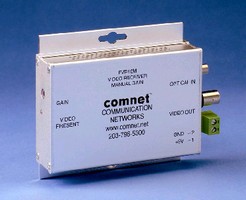 Fiber optic Models FVR11 and FVR10 receive single baseband video channel as optical signal from up to 2.5 km, and convert signal back to baseband video for monitoring. Model FVR10 features manual gain adjustment, whereas Model FVR11 offers automatic gain control that adjusts changes in camera output that might degrade video quality.
---
Original Press Release:

ComNet Releases All-New Fiber Optic Products



Introduces Fiber Optic Video Receivers

Danbury, CT. July 28, 2008, Communication Networks of Danbury, Connecticut, doing business as ComNet(TM), a manufacturer of fiber optic transmission and networking equipment, has introduced and officially released another series of all-new fiber optic video products. The FVR11 and FVR10 are fiber optic video receivers for use over multimode optical fiber. Either model receives a single baseband video channel as an optical signal from up to 2.5km to where it is converted back to baseband video for monitoring. The difference is the FVR10 features a manual gain adjustment and is a more cost-effective than the FVR11. The FVR11 features automatic gain control that automatically adjusts changes in the camera output that might degrade the video quality. Both are brand new designs from ComNet(TM) utilizing state of the art components to ensure better performance and reliability.

According to George Lichtblau, ComNet(TM)Chairman, "single-channel fiber optic video transmitters and receivers are in use in thousands of applications. These types of video fiber optic video products are installed just about everywhere. But, many of the products available today are from 20-year-old designs. The ComNet(TM) FVR10 and FVR11 are a new approach. I'm confident the performance and reliability of this model surpasses anything comparable on the market today." "I'm so confident in this new design, ComNet(TM) will back it with a lifetime warranty", continued Lichtblau. The FVR10 and 11 are part of the first release of products from ComNet.

"The FVR10 and FVR11 line is another part of a very complete fiber optic product line we're introducing", said Skip Haight, ComNet(TM) Vice President of Marketing. "The product lines we're introducing now are the result of years of fiber optic experience. But the major difference between ComNet(TM) and the other suppliers is the customer care experience we offer. ComNet(TM) is a complete full-service company and not just a product line. From the initial contact forward, our customers will be truly surprised about how good the customer experience is. " Haight continued.

ComNet(TM) just recently announced its intention to offer an extensive line of fiber optic video and data transmission equipment as well as a line of Ethernet Network equipment that is uniquely toughened to meet the needs of the Security and Intelligent Transportation System market. Full product line details are available at www.comnet.net. The ComNet(TM) product line is represented by some of the top manufacturer rep firms in the US and Canada. Call direct 203-796-5300 or email sales@comnet.net for details.

ComNet(TM) is located in Danbury, CT in a state of the art manufacturing and production facility housing the key functions of engineering, production, shipping, sales, customer care, marketing and more.

For more information, please contact Skip Haight at 203.796.5340; or e-mail ComNet at marketing@comnet.net. You may also find ComNet on the World Wide Web at www.comnet.net. Electronic files of this release and photos of ComNet products are available by contacting the ComNet Marketing Department via e-mail at fhaight@comnet.net.

More from Packaging Products & Equipment