Video Measuring Microscope integrates image processing abilities.
Press Release Summary: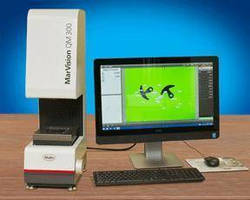 Designed for measurement/dimensioning of geometric elements, MarVision QM 300 integrates CCD color camera, 23 in. touchscreen PC with keyboard and mouse, and Windows® 8-based M3 software. Automated video edge detection enables measurement of even low-contrast features, while multi-touch function provides accelerated and continuous measurements. Other features include 1.57 in. adjustable measuring table with 0.4 in. depth of focus, 5 MP camera system, and LED illumination.
---
Original Press Release:

Mahr Federal Introduces MarVision QM 300 Video One-Shot Measuring Microscope with Image Processing



-- MarVision QM 300 measures and dimensions geometric elements using integrated CCD color camera with a 23" touchscreen PC

-- Quick Measure feature automatically recognizes the pre-programmed parts and makes the required measurements providing productivity improvement

-- The QM 300 ushers in new line of MarVision Optical Measurement Instruments



PROVIDENCE, RI — Mahr Federal has introduced a new video measuring microscope with image processing capability, the flagship product for a new line of Mahr optical measuring instruments. Designed for the measurement and/or dimensioning of geometric elements, the MarVision QM 300 incorporates an integrated CCD color camera with a 23" touchscreen PC with keyboard and mouse, and easy-to-use Windows 8 based M3 software. Automatic edge detection allows even low contrast features to be measured, and a multi-touch function provides quick and continuous measurements using either touchscreen or the mouse. The QM 300 is a full-featured measuring station designed for fast, close to the grinding machine evaluation of cutting inserts or flat components such as punch and stamped parts.



"MarVision optical measuring instruments offer a quick and reliable solution to many different 2D measurement and inspection tasks," said Rory Neill, Mahr Federal Product Manager for Precision Gages. "Applications range from cutting tools and precision products for manufacturing, plastics, and medical technology, to miniaturized electronic components. These extremely precise measuring instruments are designed to meet the highest quality and production requirements."



The MarVision QM 300 has a 40mm/1.57" adjustable measuring table with a depth of focus of 10mm/0.4". The 5 Megapixel camera system provides for sharper imaging. Illumination is provided by a quadrant LED ring top light with four individually controlled segments, and table mounted Telecentric LED transmitted light for more focused measurement of rotationally symmetric parts.



The automated video edge detection and multi-touch functions make the MarVision QM 300 especially suitable for a wide range of punched and flexible parts, plastic components, and electronic circuit boards. Measurement and evaluation functions include: Point, such as the intersection of straight lines; Line, including line of best fit and/or centerline; automatic calculation of a Circle, including index and pitch circles; Distance between points or point and line; Angle taken from two lines; and Alignment of axis of the coordinate system on the test piece.



Other products in the MarVision line include: a stereo-zoom microscope with or without digital camera; an optical measuring microscope with optional graphic LCD operating and display unit for evaluation of geometric elements, and PC integration; and our MM 320 family that measures and dimensions geometric elements using integrated CCD color camera with zoom lens and 23" touchscreen PC.



Mahr Federal Inc., a member of the Mahr Group, has been providing dimensional measurement solutions to fit customer application needs for over 150 years. The company manufactures and markets a wide variety of dimensional metrology equipment, from simple and easy-to-use handheld gages to technically advanced measurement systems for form, contour, surface finish and length. Mahr Federal is also well known as a producer of custom-designed gages and a provider of calibration and contract measurement services. Mahr Federal's calibration laboratories are accredited to ISO/IEC 17025:2005 NVLAP Lab Code 200605-0 (see our Scope of Accreditation for accredited calibration processes). For more information visit http://www.mahr.com



For additional information, contact:

Marketing

Mahr Federal Inc.

1144 Eddy Street

Providence RI 02905 USA

Tel: (800) 343-2050 or (401) 784-3100

Fax: (401) 784-3246

Email: information@mahr.com

Web site: http://www.mahr.com

More from Communication Systems & Equipment