Video Generator Module tests SDI broadcast monitors, converters.
Press Release Summary: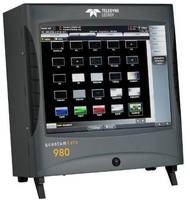 Used to test SDI broadcast monitors and converters, 980 series SDI Video Generator module features four 12G-capable output ports. Single-link configurations include support for SD, HD, 3G, or 12G video timings, and support for Dual-link HD-SDI as well as Quad-link 3G-SDIÂ is also standard. Also included, programmable sinewave generator function supports 2–16 channels of LPCM audio. Genlock input enables outputs to be synchronized to external house sync using black-burst or tri-level sync.
---
Original Press Release:

Teledyne LeCroy Announces Release of 980 Series SDI Video Generator Module



New Module Supports Testing of Next Generation Broadcast Monitors



SANTA CLARA, Calif. -- Teledyne LeCroy, the worldwide leader in protocol test solutions, today announced the release of a new quantumdata 980 series Video Generator module for testing next generation SDI broadcast monitors and converter devices.  The new 980 SDI module joins Teledyne LeCroy's existing selection of HDMI and DisplayPort video generator and protocol analyzer modules currently available with 980 series test platforms.



The new 980 series SDI Video Generator module features four (4) 12G-capable output ports. Single link configurations include support for SD, HD, 3G, or 12G video timings. The new SDI module also supports Dual-link HD-SDI as well as Quad-link 3G-SDI. A programmable sinewave generator function that supports from 2-channels and up to 16-channels of LPCM audio is also available on the SDI module.



In addition to testing next generation broadcast monitors up to 12G bit rates, the 980 Advanced Test Platform, when equipped with the new SDI Video Generator module and an HDMI Protocol Analyzer module, offers a unique solution for testing and verifying the new generation of SDI-to-HDMI converter devices. This is done by using the 980 SDI Video Generator module as a 12G-SDI input to the converter and then analyzing the HDMI 2.0 output from the converter with the 980 HDMI 2.0 Protocol Analyzer module.



A genlock input enables the module's outputs to be synchronized to an external "house sync" using either black-burst for standard definition formats or tri-level sync for high-definition formats. The module will automatically switch to an internal reference when no genlock input is detected.



The new 980 SDI Video Generator module will be exhibited in the MACOM booth, Hall 8, Stand A15 at the IBC show being held at the RAI convention in Amsterdam September 9th through 13th.



Availability

The 980 SDI Video Generator module is available now. For additional information, contact Teledyne LeCroy at 1-847-888-0450 (toll free in US: 888-252-6133). For a complete list of features and functions of the 980 SDI Video Generator module, go to: www.quantumdata.com/980_sdi.html.



About Teledyne LeCroy

Teledyne LeCroy is a leading manufacturer of advanced oscilloscopes, protocol analyzers, and other test instruments that verify performance, validate compliance, and debug complex electronic systems quickly and thoroughly. Since its founding in 1964, the Company has focused on incorporating powerful tools into innovative products that enhance "Time-to-Insight". Faster time to insight enables users to rapidly find and fix defects in complex electronic systems, dramatically improving time-to-market for a wide variety of applications and end markets. Teledyne LeCroy is based in Chestnut Ridge, N.Y. For more information, visit Teledyne LeCroy's website at teledynelecroy.com.



© 2016 by Teledyne LeCroy. All rights reserved. Specifications are subject to change without notice.



Technical contact:

Chuck Evans, Vice President Sales, Video Products

(847) 888-0450 x117



Customer contact:

Teledyne LeCroy quantumdata customer support

(847) 888-0450



Website:

quantumdata.com

Related