Vibratory Separator sizes, check-screens, and grades powders.
Press Release Summary: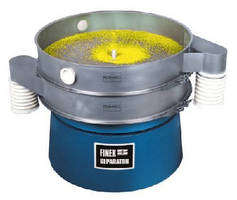 In one pass, Finex Separator can screen material to remove oversize contamination or separate material into 5 different fractions to ensure final product meets precise specification. Housing is designed around high-mass, machined casting and incorporates standard drive motor, which enables conformance to flameproof/explosion zone requirements. Equipped with oversize discharge spouts that can be moved around machine's circumference, separator allows freedom in location of material collection.
---
Original Press Release:

Vibratory Separator Increases Separation Accuracy



Fine mesh separation and filtration specialists Russell Finex have introduced a new range of high performance vibratory separators. The Finex Separator offers measurable operating benefits that include accurate particle size separation, increased separation efficiency and consistent product quality.

The high capacity vibratory separator is suitable for sizing, check-screening and grading powders. In one pass, materials can be screened to remove oversize contamination or separated into 5 different fractions to ensure that the final product meets precise specification.

Extensive performance trials with the Finex Separator have shown that at least twice the capacity can be achieved with most materials with the same accuracy of separation when compared with standard separator designs.

The vibrator housing has been specifically designed around a high-mass, machined casting, to enhance operational effectiveness and incorporates a standard drive motor. The hand-built housing translates power into the screening area above, more effectively than similar separators which leads to increased capacity.

Rubber suspension mounts make the Finex Separator far quieter in operation than separators fitted with springs. The provision of four rubber feet also contributes to a low noise level, compared to machines with metal plates in direct contact with the floor which may set up vibrations.

A standard, off-the shelf motor, rather than a more expensive vibratory model powers the Separator. Where necessary, the motor can be replaced quickly and easily at minimal cost. The use of a standard motor enables easy conformance to any current and future flameproof/explosion zone requirements.

The Finex Separator fits neatly into production lines, providing very high screening capacities without requiring excessive floor space. The modular nature of the decking contributes to flexibility and the optimum use of space. The oversize discharge spouts can be moved around a machine's circumference, allowing freedom in the location of material collection points.

The vibrator assembly has been designed specifically to translate the torque produced by the motor into the out of balance forces required to run the machine.

Russell's adjustable weight system creates a more vigorous action, raising screening and separation efficiency. Consistent material flow is now possible over all four decks giving greater separation accuracy.

As with all Russell Finex equipment, the Finex Separator can be fitted with conventional mechanical screen cleaning devices and Russell's patented Vibrasonic mesh deblinding system.

Manufactured at Russell's ISO9001 accredited factory, the versatile Finex Separator is designed to keep maintenance to a minimum and is available in a range of sizes and finishes to suit different applications.

For more information, please visit www.russellfinex.com or e-mail sales@russellfinexinc.com.

More from Packaging Products & Equipment