VESA Connector has total height of 1.24 in.
Press Release Summary: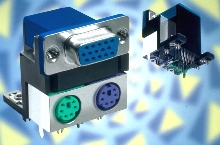 PC99 colored connector consists of 1 VESA connector sitting atop two PS/2 mini-DIN connectors. 15-pin VESA D-sub connector is made with blue PBT insulator, and has contact No. 9 recessed to allow last mate/first break on 5V supply voltage. Unit is suitable for graphic displays, and complies with DDC standards. Two 6-pin mini-DIN connectors come in PC99 colors with purple PBT insulator on left and green PBT insulator on right.
---
Original Press Release:
Stacked Vesa Connector Over 2 x PS/2 Mini-DINs

San Jose, CA - Kycon newest PC99 colored connector is a unique combination of a VESA connector sitting atop two PS/2 mini-DIN connectors. The innovative design has proven to save valuable PCB space and also allow for greater flexibility and versatility.

The 15-pin VESA D-sub connector is made with blue PBT insulator and has contact #9 recessed to allow last mate/first break on 5V supply voltage. It is intended for graphic displays and complies with the DDC standards.

The two 6-pin mini-DIN connectors, which are intended for use as keyboard and mouse connectors, come standard in PC99 colors with purple PBT insulator on the left and green PBT insulator on the right.

The total height of the connector is 31.58mm (1.24"), and the contacts for the VESA and both mini-DIN connectors are phosphor bronze with 15u" of gold plating.

Lead time is 6-8 weeks and pricing for 5K starts at $2.39
More from Materials