Vertical Turning Center features 5 m hydrostatic table.
Press Release Summary: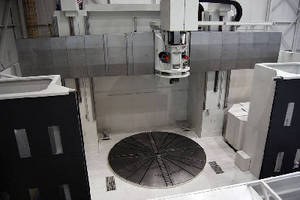 Suitable for large energy, mining, and construction parts, Model VTC 5000 is engineered to support loads up to 330,000 lb while turning parts at up to 75 rpm. X/Z traverse rate is 787 ipm and rail-elevating rate is 78 ipm. Featuring modular design, VTC 5000 allows various combinations to create machines tailored to custom applications. System can be equipped with optional live spindle for grinding, milling, drilling, and tapping, as well as C-axis for full contouring.
---
Original Press Release:

Generator Manufacturer Goes Big with MAG's First 5-Meter VTC



Giant 5-meter vertical turning center is the first built in new line of large-table machines for increasingly larger parts in energy, mining and construction equipment

The first of MAG's giant vertical turning centers (VTC) in 5-8 meter table sizes will soon complete its runoff in Fond du Lac, Wisconsin, and be shipped to a U.S. manufacturer of power generation equipment. The VTC 5000's 5-meter hydrostatic table is engineered to support extreme loads up to 150,000 kg (330,000 lbs), while turning parts at up to 75 rpm. "North American manufacturers in nuclear and wind energy, mining and construction are all scaling up their equipment. We are taking our product development in that same direction," said Helene Nimmer, Director of Proposals and Product Management for MAG. "The major components of our large VTCs weigh in excess of 25,000 kg (50,000 lbs) each and can be more than 14 m (48 ft) long. As a U.S. builder of these supersize machines, we can reduce the customer lead-time and simplify logistics, which can be a costly challenge for machines of this size built by offshore manufacturers. We are also positioned to provide quicker and more comprehensive service and parts support as an established global company," added Nimmer.

The VTC 5000 shown in the photo is an adjustable rail model offering a cross rail that is both an infinitely variable positioning and a machining axis, a combination typically not found on machines of this type. The X/Z traverse rate is 20 m/min (787 ipm) and the rail-elevating rate is a brisk 2000 mm/min (78 ipm). Full X-axis travel right and left of center allows machining from both sides and accommodates probing of diameters. W-axis machining provides improved part geometries, while the hydrostatic ram's high dynamic stiffness allows heavy cuts and produces better surface finishes.

The VTC 5000 is part of MAG's new series of large-table VTCs that includes 6-meter, 7-meter and 8-meter models. The 7- and 8-meter table models have a load capacity of 250,000 kg (550,000 lbs). All models in the large-table VTC series have industry-leading power/speed performance, with S1 (continuous duty) table power of 200 kW (267 hp). The new large VTCs have a modular design, allowing various combinations of standard modules to create a machine tailored to specific customer applications.

These versatile VTCs can be equipped with an optional live spindle for grinding, milling, drilling and tapping capabilities, as well as a C-axis for full contouring. Various tool tapers, including KM 80, Capto® C8 and 50 taper are available. The tool magazine is ergonomically designed, allowing floor level tool changeout and eliminating the need for ladders or platforms.

About MAG

MAG is a leading machine tool and systems company serving the durable goods industry worldwide with complete manufacturing solutions for metal cutting and composites applications. With a strong foundation based upon renowned brands such as Boehringer, Cincinnati, Cross & Trecker, Ex-Cell-O, Fadal, Forest Liné, Giddings & Lewis, Hessapp, Honsberg, Hüller Hille, Lamb, Modul and Witzig & Frank, MAG is recognized as the preeminent provider of tailored production solutions based on state-of-the-art technology. Key industrial markets served include aerospace, automotive and truck, heavy equipment, oil and gas, rail, solar energy, wind turbine production and general machining.

With manufacturing and support operations strategically located worldwide, MAG offers comprehensive lines of equipment and technologies including turning, milling, hobbing, grinding, honing, systems integration, composites processing, maintenance, automation and software, tooling and fluids, and core components.

For more information about MAG, please visit: www.mag-ias.com

More from Agricultural & Farming Products