Versatile Slitter Rewinder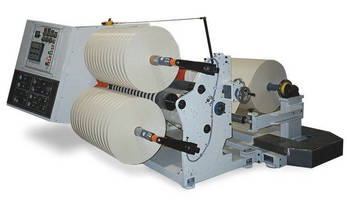 The REM Model 3250 general purpose duplex slitter rewinder converts a variety of materials.

Neenah, Wis. - REM's 3250 Slitter Rewinder is an extremely versatile, all-purpose model capable of producing ½-inch wide rolls from webs up to 54 inches wide and 24 inches in diameter. Automatic minimum gap rewinding ensures stabilization of narrow width slit rolls during the winding process by maintaining a minimum unsupported web length from the last roll in the machine to the wind up shaft. Other features include programmed differential and locked core rewinding, programmed center/surface rewinding, automatic edge guides, and score/shear/razor slitting.

REM: www.rem-mfg.com 920-729-6666

REM Manufacturing first engineered and built sophisticated slitting/rewinding machinery in 1979. From its plant in New Jersey, REM customers grew to include some of the industry's biggest names in specialized converting operations throughout the U.S. In 2010, REM was acquired by Webex Inc., North America's largest supplier of precision process rollers for the converting industry. REM manufacturing operations were moved to Webex headquarters in Neenah, Wisconsin. Along with precision process rolls of all kinds, Webex also engineers and builds custom converting machine lines and modules for many diverse applications and materials. REM slitters/rewinders is considered and excellent fit with Webex's engineering and machinery manufacturing capabilities.

More from Fluid & Gas Flow Equipment