Versatile Sarcon® Thin Film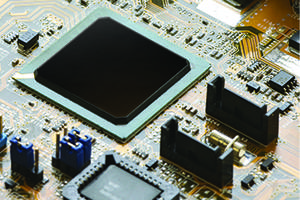 Carteret, NJ —Wednesday, March 25, 2020— Fujipoly® offers a large selection of thin film, thermal interface materials. Available in eight formulations, these Sarcon® materials offer versatility in managing heat dissipation while exhibiting useful characteristics such as electrical insulation, and UL94 VO flammability.
The Sarcon® series of thin films range in thickness from 0.15mm to 0.85mm. Depending on the material selected and application thickness, these products will provide a thermal conductivity between 0.9 and 3.0 W/m°K with a thermal resistance between 0.17 and 1.35 °Cin2/W.
Conveniently packaged in rolls and pre-cut sheets, Sarcon® thin films can be die-cut or trimmed to virtually any size or proprietary shape for the perfect component fit. Once installed, the uniquely formulated silicone rubber material efficiently transfers heat from a heat-generating electronic component to a nearby heat sink.