Vented Enclosures have ductless, turbulent-free design.
Press Release Summary: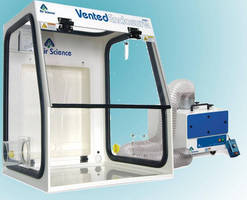 Vented Enclosures provide containment of airborne particulates during manipulation and transfer of potent compounds. Turbulent-free airflow pattern design utilizes environmentally friendly, ductless technology in combination with carbon/HEPA filtration to provide precise, safe containment in all applications. Also, ductless technology facilitates installation of dedicated workstations; no additional HVAC design is required. Custom sizes are available to suit application requirements.
---
Original Press Release:

NEW Vented Enclosures



Air Science has introduced a NEW Series of Vented Enclosures that provide effective containment of airborne particulates during manipulation and transfer of potent compounds.



Their in-house research suggests that even slight modifications of enclosures can result in containment factors from the microgram down to the nanogram. The turbulent-free design utilizes environmentally friendly, ductless technology in combination with carbon / HEPA filtration to provide precise, safe containment in all applications.



Ductless technology also makes installation of dedicated workstations easy, as no additional HVAC design is required. Air Science offers a host of vented enclosures to meet every analytical need.



Features Include:

• Turbulent-free Airflow Pattern

• Custom Sizes to meet every need

• Specialized HEPA-filter technology for increased safety

• Ductless design increases location possibilities

• Easy-to-Change Filtration system



Applications Include:

• Bulk Powder Weighing and Transfers

• Task-specific Workstations

• Short Duration Projects

• Balance and Microscope Enclosure

• Robotics Enclosure

• Compounding Activities



For additional information on these NEW Vented Enclosures, call, visit the website, or email Air Science USA.



Air Science USA

PO Box 62296

Fort Myers, Florida 33906 USA

Toll Free: 800-306-0656

Phone: 239-489-0024

Fax: 800-306-0677

E-mail: info@airscience.com

Web: www.airscience.com



Client Contact:

Paul Chambre

Paul@airscience.com