Vehicle-Mounted Switch enhances safety through control.
Press Release Summary: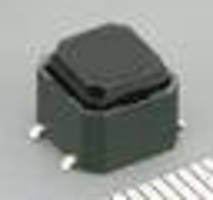 Intended for use on steering wheel in automobiles, SKPR Series TACT Switch(TM) lets operator control onboard devices such as audio equipment and air-conditioners. Definite clicking sensation, due to operating force of 5 N, enhances vehicle comfort and safety while also protecting against accidental operation. With operating life of 100,000 cycles, 7.5 x 7.8 x 6.5 mm switch uses rubber spring design for silent, smooth, and comfortable operation.
---
Original Press Release:

Alps Unveils New SKPR Series TACT Switch(TM)



Combines High Operation Force of Five Newtons with Long Operating Life

TOKYO - Alps Electric today announced its new SKPR Series TACT Switch(TM) for automobiles. In addition to having a long product life span, the switch's high operation force protects against accidental operation, making it suitable for steering wheel and other driver-centered applications. Sample shipments will commence from March 2010.

Automobiles have increasingly been designed with a variety of switches on the steering wheel, rather than on hard-to-reach instrument panels. This allows the driver to directly operate onboard devices such as audio equipment and air-conditioners. First installed primarily in luxury vehicles, these devices are proliferating to other vehicle types every year. However, such steering controls require a high operation force in order to prevent unintentional operation while driving.

The SKPR Series TACT Switch(TM) enhances vehicle comfort and safety by providing a more definite clicking sensation, due to its operating force of five newtons. With an operating life of 100,000 cycles the SKPR Series can withstand frequent usage over a long period of time. Alps' quality, analysis and 3D-CAD engineering achieved these properties by developing a new, compact rubber spring design, which also realizes silent, smooth and comfortable operation to meet requirements for quiet and luxurious vehicle interiors.

By using silver contact points the SKPR Series also limits contact resistance to 100mΩ, making it is easier to develop circuit designs for vehicle-mounted devices operated by this product. Recognizing the need for compact designs to cope with limited installation space for steering-wheel-mounted switches, Alps developed the SKPR Series TACT Switch(TM) to be highly compact, measuring 7.5mm in width, 7.8mm in depth and 6.5mm in height, thus contributing to greater space conservation. These features have been made possible by utilizing the Company's proprietary thin-wall mold engineering, ultra-high-precision press processing engineering and automatic assembly engineering.

Features
Development of vehicle-mounted, SKPR Series TACT Switch(TM) that achieves five newtons of high operation force
1. Features both high operation force capacity and long operating life
2. Realizes low contact resistance thanks to the use of silver contact points
3. Achieves high operation force capacity in a compact size through Alps's proprietary manufacturing engineering

Principal Applications
- Steering switches
- Car AV equipment and air conditioners
- Other vehicle-mounted operating switches

Planned Release
Sample production From March 2010
Mass production From March 2010
Sample price 50 yen (tax included)
Planned monthly production 1 million units (Planned for September 2010)
Development MMP Division, Furukawa Plant (Osaki City, Miyagi Prefecture)
Production MMP Division, Kakuda Plant (Kakuda City, Miyagi Prefecture)

Specifications
Product name SKPR Series
Dimensions (W × D × H) 7.5mm × 7.8mm × 6.5mm
Operating force 5N
Travel 1.0mm
Ratings (max.) 50mA 16V DC
Operating life 100,000 cycles
Initial contact resistance 100mW

About Alps Electric Co., Ltd.
Alps Electric (Tokyo: 6770) is a leading global manufacturer of high-quality electronic components for mobile devices, home electronics, vehicles and industrial equipment. With the philosophy of "Perfecting the Art of Electronics" Alps Electric supplies over 40,000 different components to about 2,000 companies all over the world. For more information, visit www.alps.com

More from Mounting & Attaching Products