VCXOs and Clock Oscillators output frequencies to 800 MHz.
Press Release Summary: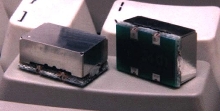 M5001/M5002 series (Clock Oscillator) and M5003/M5004 series (VCXOs) offer differential LVPECL/LVDS outputs. Clock oscillators and VCXOs provide frequency stability as low as +/-10 ppm. Both devices are packaged in surface-mount platform that is pin-for-pin compatible with 4- and 6-pin, ceramic, J-lead, 9 x 14 mm product families. Enable/Disable outputs with enable high is available, as well as 3.3 or 5.0 V operation.
---
Original Press Release:
M-tron Introduces High Precision Clock Oscillators and VCXOs up to 800 MHz

YANKTON, SD - M-tron Industries, Inc. has announced the immediate availability of high precision surface mount clock oscillators and VCXOs designed to provide overall frequency stability as low as +/- 10 ppm inclusive of 20 year aging that is standard for optical networks. Low aging, hermetically sealed crystals in conjunction with low-noise circuit multiplication provides network design engineers the best combination of overall stability, and output frequencies up to 800 MHz.

These new clock oscillators and voltage controlled crystal oscillators are ideally suited for SONET/SDH, PCS basestations, and reference clock applications.

The M5001/M5002 series (Clock Oscillator) and the M5003/M5004 series (VCXO) offer differential LVPECL/LVDS outputs for a low noise driving signal. When properly terminated, the outputs of these devices provide a high level of common mode noise rejection, which is ideal for driving many of today's SONET and Gigabit Ethernet chip sets.

Both devices are packaged in a surface mount platform that is pin for pin compatible with the 4-pin and 6-pin ceramic J-lead 9x14mm product families. Enable/Disable outputs with enable "high" is available, as well as 3.3 or 5.0 Volt operation.

According to Greg Rogers, VP of Engineering, "This product offers system designers a solid solution to higher frequency SONET requirements: long term stability, high operating frequency, and low noise in a small SMT package."

Pricing for the M5001 through M5004 series at frequencies of 622.08 MHz start at $35.00 in volume of 1,000 pieces. Delivery is stock to 3 weeks.

M-tron Industries, Inc., an ISO-9001 registered company, was founded in 1965. M-tron is a leading developer of high frequency oscillators with products available in small, surface mount packages at frequencies up to 800 MHz and higher. M-tron, based in Yankton, South Dakota, USA, is a subsidiary of the Lynch Corporation. Lynch is a member of the American Stock Exchange and traded under the symbol - LGL.

M-tron Industries

100 Douglas Ave.

Yankton, SD 57078

605-665-9321

605-665-1709 (Fax)

888-567-3551

Web: www.mtron.com

E-Mail: [email protected]