Variable-Speed Sanitary Pin Mill reduces friable solids.
Press Release Summary: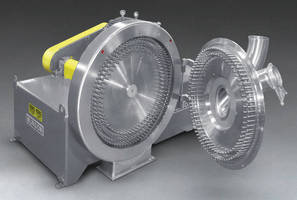 With infinitely variable rotor speed from several hundred rpm to 5,400 rpm, 34 in. sanitary stainless steel model CIM-34-SS performs coarse to fine grinding (down to 400 mesh) of friable powders, flakes, and granules into controlled particle sizes. Desired particle size distribution is obtained by controlling rotor speed, and vertically orientated mill housing minimizes footprint while fostering access to all product contact surfaces for cleaning/inspection.
---
Original Press Release:

Sanitary Pin Mill Reduces Friable Solids



UTICA, NY-A new 34 in. (864 mm) sanitary stainless steel Pin Mill model CIM-34-SS from Munson Machinery provides coarse to fine grinding of friable powders, flakes and granules into controlled particle sizes.

High-speed rotation of the inner disc creates centrifugal force that accelerates bulk material entering the central inlet of the opposing stationary disc. As material travels from the center to the periphery of the discs at high speed, it passes through a path of five intermeshing rows of rotating and stationary pins, with the desired tight particle size distribution obtained by controlling the rotor speed.

Setting the infinitely variable rotor speed between several hundred rpm and 5400 rpm provides the flexibility to use the machine for coarse grinding and de-agglomerating as well as for fine grinding down to 400 mesh.

Vertical orientation of the mill housing results in a smaller footprint than horizontally-oriented units, and allows the outer disc to hinge open, providing instant access to all product-contact surfaces for cleaning and inspection.

Also called a "Centrifugal Impact Mill," the unit provides high throughput rates per horsepower relative to machines employing screens, hammers, knives or rolls, depending on application.

Other size reduction machinery offered by the company includes Screen Classifying Cutters, Attrition Mills, Lump Breakers, Rotary Knife Cutters, Hammer Mills and Shredders. Blending equipment includes Rotary Batch Mixers, Ribbon/Paddle/Plow Blenders, Fluidized Bed Mixers, Vee-Cone Blenders, Rotary Continuous Mixers and High Intensity Blenders.

For information contact Munson Machinery Company, Inc., 800-944-6644, info@munsonmachinery.com, www.munsonmachinery.com

More from Services