Variable Laser Beam Expander provides continuous magnification.
Press Release Summary: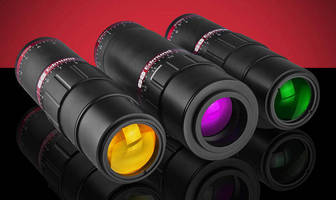 Available in 1X–3X or 2X–8X magnification ranges for 532 or 1,064 nm or broadband visible wavelengths, TECHSPEC® Variable Beam Expanders offer continuous magnification for laser applications where magnification changes may be required. Galilean designs feature 1/4 λ transmitted wavefront, and AR coatings ensure maximum transmittance while minimizing ghost reflections. Non-rotating internal translation and focusing mechanisms continuously adjust magnification and laser divergence.
---
Original Press Release:

TECHSPEC Variable Beam Expanders Provide Continuous Magnification



Adjustments do not affect overall housing length



Barrington, N.J. - Edmund Optics® (EO), the premier provider of optical components, will unveil their new TECHSPEC® Variable Beam Expanders at the CLEO show in San Jose, CA. These versatile beam expanders offer continuous magnification for high power laser applications where magnification changes may be required, including prototyping or research and development.



Edmund Optics' TECHSPEC Variable Beam Expanders provide 1-3X and 2-8X continuous magnification. These Galilean designs feature a guaranteed 1/4λ transmitted wavefront. High laser damage threshold anti-reflective (AR) coatings ensure maximum transmittance, while minimizing ghost reflections.



Non-Rotating Optics Design



TECHSPEC Variable Beam Expanders use non-rotating internal translation and focusing mechanisms to continuously adjust magnification and laser divergence without any effect on the overall housing length. The compact design eliminates the need to make system accommodations for changes in length and simplifies system integration. It easily adjusts for laser beam divergence.



Continuous Magnifications of 1-3X and 2-8X are available



TECHSPEC Variable Beam Expanders are available in two different magnification ranges - from 1-3X or 2-8X - for 532 nm, 1064 nm, or broadband visible wavelengths. Custom fixed magnification requirements can also be accommodated.



Visit http://www.edmundoptics.com/vari-beam to learn more about the TECHSPEC Variable Beam Expanders.



Please stop by Booth #2007 to see the TECHSPEC Variable Beam Expanders at CLEO, the Conference on Lasers and Electro-Optics, June 10-12, at the San Jose Convention Center, San Jose, CA.



About EO:



Edmund Optics® (EO) is a leading producer of optics, imaging, and photonics technology for R&D, electronics, semiconductor, pharmaceutical, biomedical, and military markets around the globe. EO is the world's largest supplier of off-the-shelf optical components. Customers can purchase items by contacting EO at 1-800-363-1992, via the catalog, or via the website at www.edmundoptics.com



Company Contact:

Kirsten Bjork-Jones

Director Global Marketing Communications

Edmund Optics®, Inc.

101 East Gloucester Pike

Barrington, NJ 08007 U.S.A.

Phone: 1-800-363-1992

Fax: 1-856-573-6295

email: kbjork-jones@edmundoptics.com

More from Test & Measurement