VaporCoat Series Coatings Deliver Maximum Moisture Resistance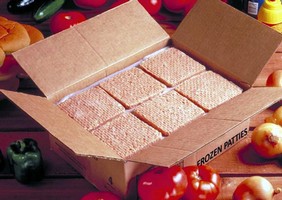 CINCINNATI, OH (September 24, 2008) - The VaporCoat® Series of coatings from Michelman are recyclable, water-based moisture barrier coatings designed for a wide range of substrates including specialty lightweight papers, folding carton, boxboard grades and linerboard used in corrugated packaging.

The coatings can be used for moisture retention when used on the interior surface, or to prevent moisture penetration into the container when used on the exterior. Various grades of VaporCoat provide meat release, are printable, repulpable, recyclable, cold-set gluable and FDA compliant. In many applications, VaporCoat can replace costly, non-recyclable curtain coatings, poly-laminated linerboard and plastic bags.

Typical applications include roll wrap for fine papers, multi-wall bags, produce and poultry boxes, frozen meat patty boxes, archival storage and corrosion-sensitive products.

o VaporCoat 1500 and 1500A provide excellent water, oil and grease resistance along with excellent MVTR properties.

o VaporCoat 2200R provides water and grease resistance and excellent MVTR properties on kraft liner and other substrates.

o VaporCoat 330C is a repulpable, printable and cold-set gluable, moisture vapor coating. Common applications include roll wrap, produce boxes, poultry boxes and anywhere packaged goods require protection from water and/or moisture vapor.

About Michelman

Michelman is a global manufacturer of performance-enhancing barrier, functional, and decorative coatings for paperboard, corrugated boxes and flexible film packaging. They have been helping companies innovate and expand into new markets around the globe since creating the first repulpable water-based coating for the corrugated industry in 1963.


Related