Vacuum Unloader does not require operator intervention.
Press Release Summary: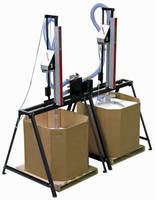 Sweeper(TM) is equipped with dual control that automatically switches from Sweeper in empty box to second Sweeper in an adjacent full one, eliminating downtime. Unit, which completely empties containers without need for box tilters, can be supplied in particular size that accommodates 64 mm hoses and European-style octobins that hold 1,000 kg of resin. Sized for Gaylord boxes that hold 1,000-1,500 lb, original model comes in 2 versions that accommodate vacuum line hoses with 1.5 and 2.5 in. dia.
---
Original Press Release:

'SWEEPER(TM)' for Completely Emptying Bulk Boxes of Resin Without Operator Intervention Now Prevents Downtime for Changeovers



New Dual Control System Switches between Adjacent Gaylord Boxes in Interconnected Sweeper(TM) Devices; also New Is a Larger Sweeper Model for Emptying European Octobins

TAMWORTH, STAFFORDSHIRE, UK: Maguire Products, Inc., has eliminated downtime for changing from an empty bulk resin box to a full one by developing a dual control system for its Sweeper(TM), a device that completely empties containers without wasting operator time or resorting to cumbersome box tilters, it was announced today by Maguire Europe. The company will introduce the Sweeper to the European market at Fakuma 2011 (Stand A7-7210).

Now available worldwide after being adopted by plastics processors in the U.S.A., the Sweeper can be supplied in a size that accommodates European-style octobins, which hold 1,000 kg of resin. Maguire also now offers its original model, sized for Gaylord boxes that hold 450 to 680 kg (1,000 to 1,500 lb), in two versions that accommodate vacuum line hoses with 1.5 and 2.5 in. (38 and 64 mm) diameters, respectively. The larger octobin-sized model accommodates 64 mm hoses.

The key component in the new system for reducing changeover downtime is a dual control that automatically switches from a Sweeper in an empty box to a second Sweeper in an adjacent full one. The Sweepers are interconnected by means of a diverter valve. Once the switch takes place, the operator can replace the empty box without an interruption in the transfer of resin to the processing machine or dryer.

While the Sweeper normally operates only when the vacuum loading system is pulling material, the dual control can be set to delay the switch from one Sweeper to the alternate between loader cycles, allowing continued removal of resin until the Gaylord or octobin is empty. An automatic switch to the alternate Sweeper prevents a stoppage in the flow of resin to the loader. In the event that there is no material in the alternate box, the control system will alarm, alerting the operator.

Sweeper(TM) Leaves 'Only a Scattering of Pellets' Behind

"The Sweeper is easy to deploy, works with any standard loading system, and takes up only a little more floor space than the Gaylord or octobin itself," said Paul Edmondson, general manager of Maguire Europe. "Even as resin levels become very low, the device continues doing its job without operator intervention, until there is nothing left in the bin but a scattering of pellets."

In both single- and dual-unit installations, each Sweeper continuously sweeps the length and breadth of the top level of resin in the container, reaching into every corner, as it uses vacuum to transfer the resin to a processing machine or dryer. The device descends along with the level of resin in the Gaylord or octobin until the container is empty. Because The Sweeper removes resin from the box without unwanted interruptions, there is no need for operators to stand by to ensure that the processing machine does not run out of material.

The Sweeper is mounted on a structural steel stand that straddles the box, giving access to a forklift truck or pallet jack for putting full boxes in place or removing empties. Above the box is a set of vertical rails on which a counter-balanced trolley can move up and down. The trolley carries a standard aluminum conveying tube, which in turn is coupled to a lower, rotating tube that is driven by a very low-speed (1 rpm) gear motor.

The rotating action of the tube drives a transverse sweeping device that moves over the top of the load of resin pellets like a sled through snow, driving pellets from the center of the box to the sides. There the pellets are vacuumed up by the slotted end segment of a 0.9-m (3-ft.) flexible hose that is affixed to the bottom of the rotating tube. As the vertical tube rotates, the flexible hose is dragged along the top of the contents in a swept-back, trailing manner that enables it to reach not only along the four sides of the box but into every corner.

MAGUIRE PRODUCTS, INC., headquartered in Aston, Pennsylvania, U.S.A., is the world's largest supplier of gravimetric blenders and liquid color pumps and also manufactures loading systems, dryers, auger feeders, and related equipment and software. Its customers include injection, blow, and rotational molders, extrusion processors, and compounders. Founded in 1977, Maguire operates six manufacturing facilities in Aston. The company maintains a network of distributors in the Americas and overseas and has three sales and service subsidiaries that stock, sell, and service auxiliary equipment systems from Maguire and its affiliate, Novatec, Inc.: Maguire Canada, Maguire Europe, and Maguire Asia. Visit www.maguire.com

Maguire Products, Inc., 11 Crozerville Road, Aston, PA 19014 USA. Tel: 1-610-459-4300. pat@maguire.com. Maguire Canada, 299 Basaltic Road, Unit 1, Vaughan, Ontario L4K 4W8. Tel: 905-879-1100. info@maguirecanada.com. Maguire Europe, Vanguard, Tame Park, Tamworth, Staffordshire B77 5DY United Kingdom. Tel: 44-1827-265-850. paul@maguire-europe.com. Maguire Europe (Italy), Maguire Italia SRL, Via Cile, 14, 35127 Padova, Italy. Tel: 39-049-970-5429. Italia@maguire-europe.com. Maguire Asia, Maguire Products Asia Pte Ltd., 45 Kallang Pudding Road, No. 01-02 Alpha Building, Singapore 349317. Tel: 65-6848-7117. magasia@singnet.com.sg. Maguire Asia (China), Maguire Products Asia Co. Ltd., 7C-02 Majesty Building, 138 Pu Dong Avenue, Shanghai 200120 China. Tel: 86-21-588-23410. mpa@maguirechina.com.

Robert J. Martino
Martino Communications Inc.
8 Main Street / P.O. Box 379
Hastings-on-Hudson, NY 10706 U.S.A.
Tel: 1-914-478-0754
Fax: 1-914-478-0959
Email: bob@martinocommunications.com
Visit www.martinocommunications.com

More from Mechanical Components and Assemblies