Vacuum Conveyors are designed to run up to 180 ft per minute.
Press Release Summary: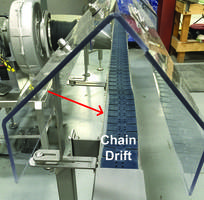 Vacuum Conveyors are equipped with vacuum blowers. Featuring hinged protective Lexan shields for preventing the entry of unwanted debris into the empty bottles. The low profile, stainless steel conveyors incorporate chain drift technology. Unit's parallel transfers deliver smooth transition from vacuum to non-vacuum chain. This conveyor helps in moving the bottles between existing customer chute to the inlet existing customer bottle unscramble.
---
Original Press Release:
Vacuum Conveyor with Built-In Safety and Additional Chain Drift Technology
Multi-Conveyor (www.multi-conveyor.com) - Multi-Conveyor recently provided a series of vacuum conveyors, equipped with vacuum blowers to transport empty plastic bottles in bulk. The stainless steel, low profile, plastic belt conveyor will move the bottles between an existing customer chute to the inlet of an existing customer bottle unscrambler.
The vacuum portion of the chain utilizes blowers or an enclosed fan to move air beneath the conveyor. In this case the inlet side has been attached to the conveyor frame and air is pulled from the conveyor, through the modified chain which draws the bottles down against the extremely fast moving plastic table top belt. The air is then exhausted at exit.
Certain sections of the conveyor incorporate chain drift technology as shown in the video link below. This is a special option used to help minimize the distance between tabletop chains that are supported by separate conveyor frames. Parallel transfers provide a seamless, smooth transition from vacuum to non-vacuum chain.
Protective Lexan shields were also specified to help keep unwanted debris from entering the empty bottles. The Lexan covers are hinged so the operator can manually lift sections as needed to get beneath the protective area. Please note the bottles used in this video are for demonstration purposes only.
The conveyors are equipped to run up to 180 feet per minute at 60 hertz with no accumulation.
About Multi-Conveyor
Multi-Conveyor has successfully produced standard and custom conveyor solutions for End-Users, Integrators, Engineering firms, OEM's and Contract Packagers across multiple markets and industries for over two decades. Specializing in conveyors that assist in packaging food, beverage, dairy, pharmaceutical, chemical, industrial, automotive and material handling industries, our customers report they select Multi-Conveyor for concept/design, engineering skills, high-quality product, best value and prompt delivery schedules.
Multi-Conveyor excels in stainless steel and mild steel construction conveyors for table top chains, modular plastic belts, and fabric belting, are licensed to build Intralox ARB solutions, and provide many types of elevators, lowerators and accumulators. We also design and provide the control devices, systems and panels with our in-house control department.
For more information about Multi-Conveyor, or to get a quote on your next project, call toll-free 1-800-236-7960, e-mail info@multi-conveyor.com or visit www.multi-conveyor.com. Then, visit us in person at Pack Expo Las Vegas in booth C-4416. We look forward to chatting with you.
Contact:
Cheryl Miller
Director of Marketing
Multi-Conveyor LLC
P O Box 10
Winneconne, WI 54986
1-800-236-7960
Related