USB to Serial Converter is packaged in DB9 form factor.
Press Release Summary: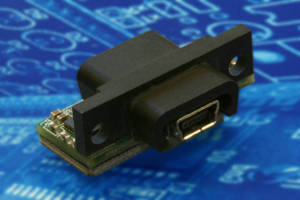 CE-USB USB2.0-to-RS232 adapter uses DB9 pcb pad pinout to allow updates to older serial products without any layout changes, and adds USB interface into existing serial products with no software or hardware redesign required. Device draws 35 mA from USB port, and drivers allow it to appear to operating system as additional COM port. It sends 8-bit asynchronous serial data at selectable speeds between 300-921.6 Kbps. All RS-232 signals, including handshakes, are available.
---
Original Press Release:

USB-Serial Converter in a DB-9 Shell!



Pittsford, NY: CE-USB is a USB2.0-to-RS232 adapter packaged in an industry standard DB9 form factor, using the DB9's same pcb pad pinout to allow immediate updates to older serial products without any layout changes. In fact, CE-USB adds a USB interface into existing serial products with no software or hardware redesign required. CE- USB is also USB-powered, so it draws no additional power from the embedded system, and just 35mA from the USB port. Drivers are supplied for all major operating systems, including Windows, Mac and Linux. CE-USB's device drivers allow it to appear to an operating system as an additional COM port, and sends 8-bit asynchronous serial data at selectable speeds between 300 and 921.6k bps. PC application software accesses the device as it would a physical COM port. Existing COM port applications can thus be used to transfer data via a PC's USB port without modifying the software at all.

Because it is based on Silabs' CP2102, all RS-232 signals including handshakes are available. CE- USB's UART interface consists of TX (transmit) and RX (receive) serial data signals as well as the RTS, CTS, DSR, DTR, DCD and RI control signals. The UART supports RTS/CTS, DSR/DTR and X-On/X- Off handshaking, and the serial port configures as an RS-232C DTE (Data Terminal Equipment).

CE-USB simplifies legacy updates by replacing an industry-standard right-angle pcb-mount DB9 connector with an almost-identical part, with the mechanical specifications of an AMP 745131-1. The CE-USB adapter is molded in black Valox resin and features a mini-USB connector similar to those used in cameras and other small devices. Because the CE-USB is completely integrated, only a simple USB cable is needed between the PC and the target system.

Applications for CE-USB include: embedded devices, security systems, cable boxes, test equipment, and other legacy RS-232 devices.

CE-USB is available now from stock at $25.99 (qty 1) from Saelig Co. Inc. Pittsford, NY info@saelig.com 1-888-7SAELIG www.saelig.com

Contact Information
email: info@saelig.com
phone / fax: 585-385-1750 / 585-385-1768
web: www.saelig.com

More from Software