USB Isolator IC supports medical and industrial equipment.
Press Release Summary: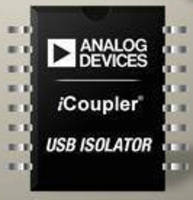 Model ADuM4160 utilizes iCoupler® digital isolation technology to offer 5 kV rms medical-grade isolation, upstream short-circuit protection, and isolated 1.5 and 12 Mbps data rates. Combining high-speed CMOS and microtransformer technology, USB 2.0-compliant chip operates off 5 V USB supply or 3.3 V power using internal regulator. It provides isolated control of pull-up resistor, allowing peripheral to control connection timing. Also, 2 mA idle current eliminates need for suspend state.
---
Original Press Release:

Analog Devices Enables Isolated USB Connections for Medical and Industrial Equipment



- ADI introduces industry's first single-IC USB isolator; device significantly reduces the cost, size, and design time to realize an isolated USB solution.

Norwood, MA (05/20/2009) - Analog Devices, Inc. (NYSE: ADI), a global leader in high-performance semiconductors for signal-processing applications, has introduced the industry's first single-IC USB isolator (universal serial bus isolator), which simplifies isolated USB-port implementation in system-critical medical and industrial equipment. USB ports provide a standardized, straightforward way to connect and disconnect peripheral devices to and from a computer without rebooting or turning off the system.

When information is needed, USB-compatible medical devices make it simple and efficient for medical professionals to share vital patient files or data at any time and between locations. USB-enabled devices enable healthcare professionals to use a wide range of commercially available, cost-efficient peripherals. The demand for USB-enabled healthcare devices continues to grow as equipment aimed at patient monitoring, disease management, health and wellness, and drug delivery are now essential in maintaining the health of millions of people around the world.

Leveraging ADI's iCoupler® digital isolation technology, the ADuM4160 USB isolator offers 5 kV rms medical-grade isolation, upstream short-circuit protection, and fully isolated 1.5-Mbps and 12-Mbps data rates (IEC 60601-1 medical safety approvals pending). The USB 2.0-compliant device provides fully isolated USB functionality at a fraction of the cost and complexity of current data isolation methods, and makes it possible for medical and industrial design engineers to cut implementation costs by up to 25 percent, reduce the size of designs by as much as 50 percent, and trim development time from months to weeks. Click here to watch a video on the features of the new device.

"ADI's new USB isolator provides design engineers with a groundbreaking alternative to expensive and time-consuming USB isolation schemes that require complex, space intensive transceivers to convert USB's differential, bidirectional signals into signals that are more compatible with traditional, discrete isolators," said Ronn Kliger, product line director, Isolation Products, Analog Devices. "The ADuM4160 contains all USB signaling and isolation in one small IC."

Based on Analog Devices' iCoupler technology, which combines high-speed CMOS (complementary metal oxide semiconductor) and chip-scale, micro-transformer technology, the ADuM4160 can be implemented easily in low- and full-speed USB-compliant systems. It operates off the 5-V USB supply or system-supplied 3.3-V power using an internal regulator. The ADuM4160 also provides isolated control of the pull-up resistor, allowing the peripheral to control connection timing. The device's low idle current (2 mA, max) eliminates the need for a suspend state.
"Medical designs have typically used isolated RS-232 or Ethernet connections that limit data transfer rates, do not support plug-and-play functionality, and take up excessive space," said Patrick O'Doherty, healthcare segment director, Analog Devices. "The ADuM4160 USB isolator's reinforced, medical-grade isolation makes it possible for engineers to design USB-enabled medical devices that help facilitate better patient care."

Complementary Components
ADI's ADuM5000 ½-W isolated dc-to-dc converter can be used to provide isolated power to the secondary side of the ADuM4160 USB isolator. Other complementary components include the ADSP-BF535 Blackfin® embedded processor/DSP and ADG790 low-voltage, CMOS multimedia switch.

Pricing and Availability
The ADuM4160 USB isolator is sampling now and will be available in production quantities in June 2009. For more information, visit www.analog.com/pr/ADuM4160.

ADuM4160 ADuM4160
Product Unit Price in 1,000-Piece Quantities - $4.89

Packaging - 16-lead SOIC (small outline IC)

iCoupler® Technology

With more than 250 million channels deployed, ADI's proven iCoupler technology is based on chipscale transformers, rather than on the LEDs and photodiodes found in optocouplers. Transformers support higher data rates, consume less power, and are more stable over life as compared to LEDs and photodiodes. By fabricating the transformers directly on-chip using wafer-level processing, iCoupler channels can be integrated with each other and other semiconductor functions at low cost. iCoupler transformers are planar structures formed from CMOS and gold metal layers. A high breakdown polyimide layer underneath the gold layer insulates the top transformer coil from the bottom. CMOS circuits connected to the top coil and bottom coil provide the interface between each transformer and its external signals.

About Analog Devices

Innovation, performance, and excellence are the cultural pillars on which Analog Devices has built one of the longest standing, highest growth companies within the technology sector. Acknowledged industry-wide as the world leader in data conversion and signal conditioning technology, Analog Devices serves over 60,000 customers, representing virtually all types of electronic equipment. Celebrating over 40 years as a leading global manufacturer of high-performance integrated circuits used in analog and digital signal processing applications, Analog Devices is headquartered in Norwood, Massachusetts, with design and manufacturing facilities throughout the world. Analog Devices' common stock is listed on the New York Stock Exchange under the ticker "ADI" and is included in the S&P 500 Index.

iCoupler and Blackfin are registered trademarks of Analog Devices, Inc.

More from Fasteners & Hardware