USB Devices allow portable data acquisition.
Press Release Summary: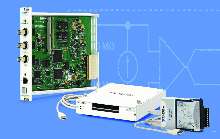 Offering 16-bit accuracy, DAQPad-6015 and DAQPad-6016 feature maximum sampling rate of 200 kS/sec for single channel. The 4-channel, 24-bit, USB-9211 provides thermocouple measurement, while 4-channel, 16-bit USB-9215 offers simultaneous sampling, measuring multiple signals with minimal phase delay. Both deliver integrated signal conditioning. SCXI-1600 DAQ module delivers plug-and-play USB connectivity to 40 measurement modules within NI SCXI signal conditioning platform.
---
Original Press Release:

New Family of National Instruments USB Devices Offers Portable Data Acquisition


First Five Devices of New USB Line Releasing in 2004 Deliver Easy Connectivity for Measurement Systems

NEWS RELEASE - Aug. 3, 2004 - Engineers and scientists now can access the high-quality measurement capabilities of National Instruments data acquisition (DAQ) hardware as easily as plugging a USB cable into a computer. Five new USB DAQ products - the first in a series of devices scheduled to release during 2004 - deliver easy connectivity, portability and decreased system setup time. The new family of high-quality USB devices includes:

o DAQPad-6016 - 16-channel, 16-bit AI module, 200 kS/s max, two AO, 32 DIO, two CTR/timers
o DAQPad-6015 - 16-channel, 16-bit AI module, 200 kS/s max, two AO, eight DIO, two CTR/timers
o USB-9215 - four-channel, 16-bit simultaneous sampling AI module, ±10 V, 20 kS/s max
o USB-9211 - four-channel, 24-bit thermocouple input, ±80 mV, 14 S/s max
o SCXI-1600 - up to 352 channels, 16-bit AI module, 200 kS/s max

"National Instruments continues to lead the data acquisition market by addressing industry needs, including the call for highly accurate and portable data acquisition devices built on the USB platform," said Pete Zogas, senior vice president of NI sales and marketing. "This new family of USB devices combines a quick and easy plug-and-play setup with the high-quality capabilities and features of NI DAQ products. By using NI USB devices, engineers not only can save time and resources in system setup, but they can meet the overall accuracy and reliability of their measurement systems as well."

The NI DAQPad-6015 and NI DAQPad-6016 add 16-bit accuracy to the NI USB multifunction DAQ product line and increase the maximum sampling rate of the product line to 200 kS/s for a single channel. Both devices offer built-in screw terminal connectivity, eliminating the need to purchase a cable and terminal block.

The NI USB-9211 and 9215 deliver integrated signal conditioning and are the first in a series of single-function USB DAQ devices. The USB-9211 is a four-channel, 24-bit, highly accurate thermocouple measurement device that includes built-in screw terminal connectivity. The USB-9215 is a four-channel, 16-bit, simultaneous sampling analog input device that accurately measures multiple signals with minimal phase delay. Both devices ship with free ready-to-run data-logging software so engineers can begin gathering data immediately.

The SCXI-1600 DAQ module delivers plug-and-play USB connectivity to 40 measurement modules within the NI SCXI signal conditioning platform. Engineers now can create high-channel-count sensor measurement systems without the extra cost and setup time of connecting a DAQ device and cable to the SCXI signal conditioning hardware. Because the DAQ device is integrated into the SCXI-1600 module, the user needs only to connect to a computer with a single cable.

The small size and easy connectivity of all NI USB DAQ devices make them ideal for operations such as in-vehicle data logging and environmental monitoring. They also are useful in academic settings where students and researchers must share hardware and labs. In addition, by combining the new SCXI-1600 data acquisition module and new SCXI Sensors Plug&Play hardware, engineers can build a complete plug-and-play measurement system, saving valuable time and resources previously spent installing hardware and manually entering configuration information from data sheets. A recent NI survey of data acquisition customers and prospects found that system setup can comprise 18 percent of overall measurement cost.

About National Instruments
National Instruments (www.ni.com) is a technology pioneer and leader in virtual instrumentation - a revolutionary concept that has changed the way engineers and scientists approach measurement and automation. Leveraging the PC and its related technologies, virtual instrumentation increases productivity and lowers costs through easy-to-integrate software, such as the NI LabVIEW graphical development environment, and modular hardware, such as PXI modules for data acquisition, instrument control and machine vision. Headquartered in Austin, Texas, NI has more than 3,100 employees and direct operations in 40 countries. In 2003, the company sold products to more than 25,000 companies in 90 countries.

Pricing and Contact Information NI USB-9211, USB-9215, DAQPad-6016, DAQPad-6015, SCXI-1600 Contact Sales: www.ni.com/contact

Priced from $395 E-mail: info@ni.com
Web: www.ni.com/dataacquisition


More from Test & Measurement