USB Controller offers max programmable TCK speed of 6 MHz.
Press Release Summary: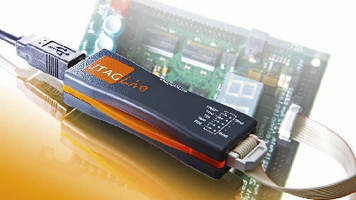 Consisting of single tap, IEEE Std. 1149.1 boundary-scan controller, JTAGLive includes built-in support options for Altera and Xilinix hardware. PC-powered unit features single test access port and programmable output voltages and input thresholds. Controller is designed for use exclusively with JTAGLive suite of software tools that include Buzz continuity tester, Clip interactive cluster test generator, and Script Python-based boundary-scan scripting system.
---
Original Press Release:

JTAG Cable Lowers Cost-of-Entry



Eindhoven, The Netherlands,- Following the successful launch last year of the highly acclaimed JTAGLive boundary-scan utility tools, JTAG Technologies has further bolstered the hardware interface support by introducing the JTAGLive USB Controller; a single TAP, IEEE Std. 1149.1 boundary-scan controller.

While JTAGLive already supports the use of the JTAG 'cables' from Xilinx and Altera, as well as JTAG Technologies' own established range of IEEE 1149.x controllers, increasingly JTAGLive users have been requesting a dedicated, low-cost, connection system that works 'out of the box' with the JTAGLive suite.

Peter van den Eijnden, MD of JTAG Technologies, commented: "While most users have been quite happy to use the built-in support options for Altera and Xilinx hardware, some users found it inconvenient to download and install the PLD support/driver software. By offering an affordable interface cable that customers can use with confidence, we believe boundary-scan usage will spread even further and faster."

The JTAGLive USB Controller is PC-powered and features a single test access port in JTAG Technologies' standard pin-out. It offers a maximum programmable TCK speed of 6MHz and also features programmable output voltages and input thresholds.

The controller has been designed for use exclusively with the JTAGLive suite of software tools that includes Buzz (a free-of-charge continuity tester), Clip (an interactive cluster test generator) and Script (a powerful Python-based boundary-scan scripting system).

The JTAGLive USB Controller costs just 195 Euro or 265 USD and is available for on-line ordering today by visiting www.jtaglive.com

About JTAG Technologies

JTAG Technologies is a market leader and technology innovator of boundary-scan software and hardware products and services. The company was the first to bring to the market such important advances as automated test generation, automated fault coverage analysis, automated flash and PLD programming via boundary-scan, and visualized boundary-scan analysis. Its customers include world leaders in electronics design and manufacturing such as Ericsson, Flextronics, Honeywell, Medtronic, Motorola, Nokia, Philips, Raytheon, Rockwell-Collins, Samsung, and Sony. Its innovative boundary-scan products provide test preparation, test execution, test result analysis and in-system programming applications. With an installed base of over 6,500 systems worldwide, JTAG Technologies serves the communications, medical electronics, avionics, defence, automotive, and consumer industries with offices throughout North America, Europe and Asia. JTAG Technologies headquarters are located in Eindhoven, The Netherlands.

JTAG, JTAG Technologies and JTAGLive are registered trademarks of JTAG Technologies, Inc. All other brand names or product names mentioned are trademarks or registered trademarks of their respective holder(s).

www.jtag.com

More from Electrical Equipment & Systems