Urethane Roller Mold Release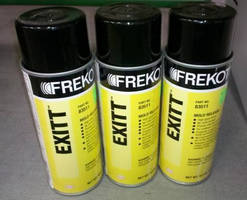 Frekote Exitt is a silicone-based, sacrificial mold release developed specifically for urethane elastomer systems. It gives a high gloss finish with a precise retention of the mold detail with no build-up. This product will also release urethane foams, organic rubber compounds, and most specialty molding resins but is not recommended where parts are to be painted, bonded, or stained. Ideally applied at room temperature, once the solvents have flashed this coating is stable up to 250°C.

Features

High gloss finish

Water based

No mold build-up

No VOCs

Precise retention of mold detail

Non-flammable

Low Cost

Contact me for more information, MSDS, and pricing. I look forward to hearing from you!

More from Electrical Equipment & Systems