United Grinding Installs 500th EWAG RS 15 Series Tool Grinding Machine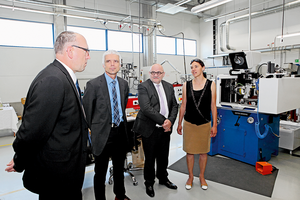 MIAMISBURG, Ohio, Nov.16, 2016 - United Grinding reached a major milestone with the recent delivery of its 500th EWAG RS Series Tool Grinding Machine to tool manufacturer Mapal's subsidiary in Mlada Boreslav in the Czech Republic.
Mapal started manufacturing PCD tools in 1980 and chose RS series manually operated tool grinding machines specifically to process ultra-hard PCD cutting material. The company - that now runs two shifts per day using 22 RS 15 and three RS 12 grinding machines - needed reliability and precision. The machines fulfill the company's specifications of less than 2 µm over the long term as well as its need for flexibility to machine a variety of cutting edge geometries.
"Back then, the RS series of tool grinding machines from EWAG was the only one with the kinematics to assure these properties," explained Christian Molch, managing director of Mapal's PCD Competence Center in Pforzheim. "EWAG's tool grinding machines have proven to be in a class of their own in terms of their stability, precision and flexibility."
Options and add-on features make it possible to grind even the most complex geometries, such as convex and - in some cases (but not with PCD) - concave radii and cutting edges with axis angles, in the shortest amount of time. In addition, the latest version of the RS 15 tool grinding machine is quick and easy to set up and operate.
Mapal uses RS 15 tool grinding machines for a broad range of drilling and boring tools, milling tools, parting-off tools and indexable inserts made of PCD, in all variations - cutting left or right, with inner contours and axis angles. The machines are used for both producing new and reworking worn cutting edges.
"As we strive to fit our global sites with uniform production and operating equipment as part of our international production strategy, we grasped the opportunity of integrating the 500th R15 into the manufacturing process of our MAPAL subsidiary in Mlada Boreslav in the Czech Republic," explained Molch, who acknowledged that alternative technologies - such as eroding or laser machining - have also become commonplace.
The process of grinding PCD tools is seen as essential by Mapal specialists, prompting Molch to expound on his positive experience with the manually operated tool grinding machines, "In light of their numerous benefits, we will continue to give preference to EWAG's manual grinding machines when grinding PCD tools here in Germany, despite the high personnel cost."
About United Grinding North America, Inc.
UNITED GRINDING North America, Inc. is the subsidiary for the North American market, with two production plants of 16,732 sq-ft space in Miamisburg, Ohio and 16,732 sq-ft in Fredericksburg, Virginia and over 155 employees around North America. Apart from its production plants in the U.S., it runs an additional sales and service office in Querétaro, Mexico. UNITED GRINDING North America occupies a leading position in the North American grinding machine tool market by offering innovative products in the technology areas of surface & profile grinding, cylindrical grinding and tool grinding. With a wide range of products, application know how from a single source and a high level of innovation capabilities, the customers enjoy the benefits in terms of efficiency, quality and reliability of its products. For more information, please visit www.grinding.com.
UNITED GRINDING North America
Ted Neckel
Director of Corporate Marketing
937.847.1229
dgs Marketing Engineers
Chuck Bates
Director of Public Relations
317.813.2230
More from Packaging Products & Equipment