United Grinding Erosion Technology Sets New Surface Finish Standards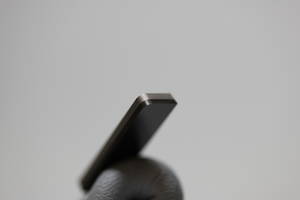 MIAMISBURG, Ohio, November 29, 201 6 - UNITED GRINDING recently launched Fine Pulse Technology that significantly boosts surface and cutting edge quality - and therefore overall resulting tool performance reliability - in the production of polycrystalline diamond (PCD) metalworking tools. All UNITED GRINDING's WALTER erosion machines, such as those in the HELITRONIC line, will offer the new technology.
Eroding systems with Fine Pulse Technology produce tools with smoother, more perfect exteriors and cutting edges along with super-fine finishes that match the level of visible shine generally reserved for polished tools. Such results eliminate re-grinding and polishing steps during cutting tool production to help increase output. Fine Pulse Technology finely finishes tools made from the most common PCD types with 10 μm grain size and from coarse-grained types as well.
As the world leader in tool grinding technologies, WALTER continuously develops new erosion methods to meet heightened requirements for the surface quality, tool life and cost-effective production of PCD tools. To create Fine Pulse Technology, WALTER completely redesigned the erosion generator, improved eroding software and optimized a host of machine elements.
About United Grinding North America, Inc.
United Grinding North America, Inc., a division of the Körber Group, represents a union of the world's strongest companies in grinding and ultra-precision finishing solutions for the manufacturing industry. Through its surface and profile grinding, cylindrical grinding and tool grinding technology groups, the company sells and supports precision machines for grinding, eroding, lasering, combination machining and measuring under the MÄGERLE, BLOHM, JUNG, STUDER, SCHAUDT, MIKROSA, WA LTER and EWAG brands. Headquartered in Miamisburg, Ohio with a tool division in Fredericksburg, Virginia, United Grinding North America, Inc. is ISO 9001 and 14001 certified to ensure quality in product development, production, shipping and support operations. Learn more at grinding.com.
MEDIA CONTACTS
UNITED GRINDING
Ted Neckel
Director of Corporate Marketing
937.847.1229
dgs Marketing Engineers
Chuck Bates
Director of Public Relations
317-813-2230
More from Communication Systems & Equipment