Underwater Pelletizing System produces evenly shaped pellets.
Press Release Summary: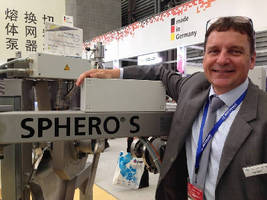 Offering alternative to larger and more customizable systems, SPHERO® S is suited for compounding, masterbatch, and recycling applications with medium throughputs, typically between 0.7–3,000 kg/hour. Pneumatic diverter valves optimize flow channel, while ergonomic design facilitates cleaning and quick changes of die plates. Frame allows system to be mounted on single mobile structure, guaranteeing optimal alignment with reduced footprint.
---
Original Press Release:

Pump Solutions Group (PSG®) Launches New SPHERO® S at CHINAPLAS 2014



Shanghai, China — Pump Solutions Group (PSG®), a business unit within Dover Corporation (NYSE: DOV) and experts in advanced integrated flow control solutions that enable the safe and efficient movement, measurement and control of the most critical and valuable materials within targeted global growth markets, is pleased to announce that it officially unveiled its new Automatik Plastics Machinery SPHERO® S Underwater Pelletizing System at CHINAPLAS 2014, which was held from April 23-26 at the Shanghai New International Expo Centre in Shanghai, China.



"CHINAPLAS was the perfect venue for us to introduce our new SPHERO® S System," said Andreas Weidner, China Sales Director for Automatik Plastics Machinery. "Launching the SPHERO® S in front of the over 40,000 visitors to CHINAPLAS was a great experience, and we received an overwhelmingly positive response from everyone at the event. We look forward to showcasing the SPHERO® S at other upcoming shows such as Fakuma, IPF and Equiplast later this year."



During CHINAPLAS 2014, Weidner participated in a short video introduction of the SPHERO® S. To view the video, please go to the PSG TV website.



Automatik's new SPHERO® S has been specifically designed to be a cost-effective alternative to larger and more customizable systems. The SPHERO® S incorporates a variety of innovative features, making it ideally suited for compounding, masterbatch and recycling applications with medium throughputs, typically between 0.7-3'000 kg/hour. The major technological advancements in the SPHERO® S include new pneumatic diverter valves that optimize the flow channel and a user-friendly, ergonomic design for easy cleaning and quick changes of die plates.



Other improvements to the SPHERO® S include a frame that allows it to be mounted on a single mobile structure, which guarantees a perfect alignment and a reduced footprint. In addition, special attention has been given to the design of the cutting tools to guarantee process integrity and ensure the production of evenly shaped, high-quality pellets.



For more about the new SPHERO® S, please download the SPHERO® S Data Sheet or visit www.sphero-s.com.  To learn more about Pump Solutions Group (PSG®), visit www.psgdover.com.



About Maag and Automatik Plastics Machinery:

Maag is the worldwide leading manufacturer of gear pumps, pelletizing systems, and filtration systems for demanding applications in the plastics, chemical, petrochemical, and food industries. Maag develops, manufactures, and distributes innovative, customized solutions for complete pump and pelletizing systems – with the expertise based on its long-term industrial tradition since 1910.



Automatik Plastics Machinery has been manufacturing innovative pelletizing systems of the highest quality for several decades. It is the world leader in underwater strand pelletizing systems. That leadership position is founded on state-of-the-art technology and on comprehensive know-how in all pelletizing techniques and pellet forms. The company's longstanding tradition in development, production and global sales and distribution is complemented by comprehensive advice and service backup. Automatik Plastics Machinery is a subsidiary of Maag.



The whole company employs more than 500 staff at its headquarters in Switzerland and its production sites and sales offices in Germany, France, Italy, Singapore, Taiwan, Malaysia, China, Brazil, and the USA and is represented in the markets with its brands "Maag Pump Systems", "Automatik Pelletizing Systems", and "Maag Filtration Systems". Maag, a Dover Corporation Company (NYSE:DOV), is a part of the Pump Solutions Group, itself a business unit of Dover Engineered Systems.



CONTACT: 

Chris Laurent

Marketing Communications Manager

ChrisLaurent@maag.com  

or +41 44 278 8349

More from Architectural & Civil Engineering Products