UltraFlex Using an Induction Heated Die to Tip Catheters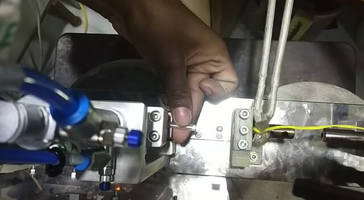 [July 17, 2020] A recent customer-requested test application set up by UltraFlex Power Technologies showed the successful usage of controlled induction heating for a catheter tipping die. In this test UltraFlex - a leading manufacturer of advanced induction heaters - was looking to optimize, resource- and quality-wise, the process of catheter tipping for a customer in the medical industry.
An UltraFlex induction heater from the UltraFlex UltraHeat SM series had been considered most appropriate for this induction heating scenario. UltraHeat SM are compact 5kW induction heating systems that operate with either water-cooled or air-cooled remote heat stations. They feature adaptive digital phase control providing efficient operation in a wide frequency range.
The catheter tipping process is started by preheating the tipping die before the catheter tube insertion. At this first stage, precise control over the temperature used in the die is crucial since if the die gets overheated, it will lose its magnetic properties and will not be able to heat properly. Hence, to establish full control on the heating process, UltraFlex engineers attached a "K" type thermocouple to the die and wired a temperature display unit with relay to switch off the power unit.
After the target temperature of 211℃ (412°F) had been reached, the catheter tubing was inserted into the heated die. The plastic tube was then pressed against the inner surface of the die, it melted and flew into the die's cavity. The entire tipping process took mere 3-4 seconds to complete. Air-cooling was then applied to the plastic for not more than 8 seconds so that it would solidify.
The entire catheter tipping process required a number of parameters to be observed, in addition to the specifics of the induction heating itself - the gap between the die and the coil had to be 1 mm from each side, the tube had to be inserted at optimum pressure during pre-heating, the speed with which the catheter was inserted into the die had to be adjusted to match the melting rate and others. All these were carefully considered by UltraFlex application engineers to ensure a successful die heating process.
The end result was high-quality, time- and energy-efficient catheter tipping, with consistent, repeatable results. Thanks to the precise, operator-independent control on all parameters, this tipping process could easily get implemented on the production line and ensure lower production costs and increased productivity.
Find out more at: https://ultraflexpower.com/
Contact us at:
+1.631.467.6814
uptnews@ultraflexpower.com
About UltraFlex Power Technologies:
UltraFlex Power Technologies (ultraflexpower.com) offers the most advanced and innovative digitally controlled induction heating equipment in the industry. Its compact modular and flexible systems are suitable for a wide variety of induction heating, casting and melting applications.
More from Services