UltraFlex Soldering a Coaxial Cable to Connector Ring and Pin at 500°F (260°C) Within mere 5 Seconds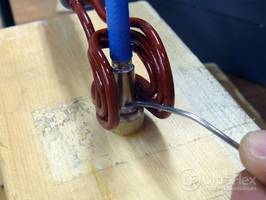 July 5th, 2019] UltraFlex - a leading manufacturer of advanced, digitally-controlled induction heaters - has once again demonstrated the time- and cost-efficiency of induction heating for manufacturing purposes.
The subject of the company's recent demonstration had been the soldering of a coaxial cable to cable connector ring and center pin - a test scenario set up per the request of a potential customer. UltraFlex UltraHeat SM induction heater, along with a HS-4W Heat Station had been considered most appropriate for this soldering scenario. UltraHeat SM is a compact, 5 kW induction heater operating with either water-cooled or air-cooled remote heat station. It is easy to tune to a wide range of loads and coils.
The induction soldering process had been completed in 2 steps: first the cable and connector had been placed vertically inside the induction coil and heated at output power for the induction heater of 1.0 kW. It took mere 3 seconds for the parts to get hot enough for soldering. Then, the no-flux solder wire had then been fed between the cable braid and the connector.
In step 2 of the soldering, the cable with connector, the center pin and solder wire had been heated for 1.5 seconds, after each the parts were hot enough for soldering. The center conductor was then inserted into the pin.
This quick and energy-efficient soldering process resulted in strong and durable joints. Thanks to the selective and precise heat zone, the induction soldering process ensured less part distortion and joint stress. Finally, this heating process was completely clean and safe, eliminating smoke, waste heat, and noxious emissions.
Find out more at:
Contact us at:
+1.631.467.6814
uptnews@ultraflexpower.com
About UltraFlex Power Technologies:
UltraFlex Power Technologies (ultraflexpower.com) offers the most advanced and innovative digitally controlled induction heaters in the industry. Its compact modular and flexible systems are suitable for a wide variety of induction heating, casting and melting applications.
Related