UltraFlex Performing Susceptor Heating of Alumina Powder and Graphite Flakes Using Induction Heater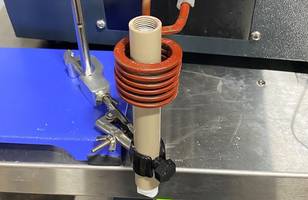 [Dec 10, 2020] The successful induction heating process for alumina powder with a susceptor has recently been demonstrated by UltraFlex Power Technologies. UltraFlex - a leading induction heaters manufacturer - had been contacted to perform this test application setup per request of a leading research laboratory who was a potential UltraFlex customer.
The laboratory required that a mixture of 90% non-conductive alumina powder and 10% graphite flakes which act as a susceptor be heated to 150-200°C (302°–392°F) for 10 minutes. The target temperature had then to be maintained for 30 minutes.
UltraFlex test lab engineers identified UltraFlex induction heating equipment from the UltraHeat W series as most appropriate for this heating scenario. UltraHeat W are advanced, cost-effective 5-15 kW induction heaters utilizing the latest switching power supply technology. They feature adaptive digital phase control providing very efficient operation in a wide frequency range. Heating small graphite flakes required high-frequency equipment and hence UltraHeat W was a great choice for the job.
A helical coil was designed and used by UltraFlex to heat the mixture which was placed in a 0.5-inch (1.27 cm) diameter non-conductive tube. A K-type thermocouple connected to a temperature controller was used to evaluate the temperature throughout the entire heating process.
At output power of 4 kW, it took only 10 minutes for the mixture to reach the target temperature of 160 °C (320°F). The temperature was then successfully maintained for 30 minutes.
All customer requirements in this induction heating scenario had been successfully met. In addition, the heating process had been completely energy-efficient, cutting down the customer's costs. The induction heating also would ensure consistent results and repeatability, with no dependency on the operator skills. Finally, this would have been a completely green heating process, with no smoke, waste heat, and noxious emissions.
Find out more at:
https://ultraflexpower.com/
Contact us at:
+1.631.467.6814
uptnews@ultraflexpower.com
About UltraFlex Power Technologies:
UltraFlex Power Technologies (ultraflexpower.com) offers the most advanced and innovative digitally controlled induction heating equipment in the industry. Its compact modular and flexible systems are used for a wide variety of induction heating, casting and melting applications.
More from Agricultural & Farming Products