UltraFlex Melting and Casting 400g of Gold with Diamonds Using Induction Heating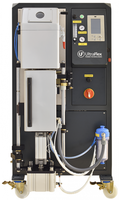 The induction-based melting and casting process for gold jewelry has recently been demonstrated by UltraFlex Power Technologies.
UltraFlex is a manufacturer of induction melting and casting equipment and in this test scenario, set up per customer's request, had to perform a gold casting application using UltraFlex proprietary PressCast system and a burnout oven using a lost-wax casting process.
PressCast are UltraFlex high-volume, versatile pressure over vacuum casting systems suitable for high volume jewelry manufacturers with demanding requirements. PressCast can provide excellent quality castings with fine details, as well as "stone-in-place" casting of all low melting point metals and alloys commonly used in the jewelry manufacturing – gold, silver, brass and many more.
In this melting and casting application, the diamonds were placed into the wax model and the investment material was then poured into the flask. The flask was then kept in a burnout oven for 12 hours at 1200° F (649° C) prior to the process, as per the investment material manufacturer recommendations. 400 g of 14k gold grains was then placed into the crucible of the PressCast induction casting system and melted under argon atmosphere. The melted gold was then cast into the flask using pressure-over-vacuum casting method.
After the cast tree was left to cool off in the flask to room temperature, the investment material was removed and the cast jewelry tree, with stones already in place, was ready for further processing.
This induction-based jewerly melting and casting application demonstrated excellent casting, with perfect filling of the finest details. The integrated thermocouple probe and temperature controller ensured superb casting quality and repeatability. In addition, the LCD Touch control panel features allowed the customer to monitor all process parameters real-time and create up to 10 programmable melting and casting cycles, with 10 parameters per cycle.
Find out more at: https://ultraflexpower.com/
Contact us at:
+1.631.467.6814
[email protected]
About UltraFlex Power Technologies:
UltraFlex Power Technologies (ultraflexpower.com) offers the most advanced and innovative digitally controlled induction heating equipment in the industry. Its compact modular and flexible systems are used for a wide variety of induction heating, casting and melting applications.