UltraFlex Induction Preheating Carbon Steel Threaded Rods at 148°C (300°F) within 17 Seconds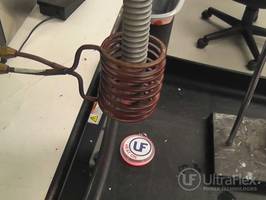 A recent test application by UltraFlex Power Technologies showed the time- and cost-efficient induction heating process for carbon steel threaded rods. UltraFlex - a leading manufacturer of digitally controlled induction heating equipment - has set up a dedicated application laboratory performing application testing based on specific customer requirements. The testing defines the induction heating parameters and recommended equipment for each customer scenario and is concluded by returning all samples to the customer for evaluation, along with a well-documented report, video and proposal.
In this test scenario, the customer who was operating in the Fasteners industry required that two carbon steel threaded rods having 19" (482.6mm) length and 0.975" (24.7 mm) OD be heated at 148°C (300°F), achieving a heat length of 3.5" (88.9mm).
UltraFlex Lab engineers considered UltraFlex induction heater from the UltraHeat SM series to be most appropriate for this heating scenario. UltraHeat SM is a compact 5kW induction heating system that operates with either a water-cooled or air-cooled remote heat station. It can be easily tuned to different loads and coils.
To ensure repeatability and efficiency in the induction heating application, the rod heating was completed as a pre-programmed process with specific, well-defined steps. At output power of 1.70 kW, it took mere 17 seconds for the heated part to achieve the target temperature of 148°C (300°F), at the required heat length of 3.5" (88.9mm).
The customer was convinced that using induction heating on the line, he would achieve a time- and cost-efficient heating process, while ensuring consistent results and repeatability. This heating process would also be a completely safe operation - safe for the operator, safe for the environment - due to the lack of open flame.
Find out more at:
https://ultraflexpower.com/ 
Contact us at:
+1.631.467.6814
[email protected] 
About UltraFlex Power Technologies:
UltraFlex Power Technologies (ultraflexpower.com) offers the most advanced and innovative digitally controlled indu