UltraFlex Induction Heaters Used by Researchers to Mimic a Nuclear Disaster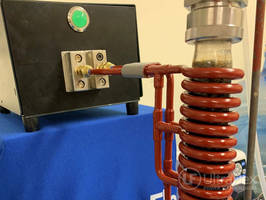 [May 28th, 2019] The use of induction heaters for nuclear research purposes has been recently demonstrated by UltraFlex Power Technologies. The company is a leading manufacturer of advanced, digitally controlled induction heating solutions that are widely used to save heating time and costs in a wide range of manufacturing and research applications.
In this heating application test, the company aimed at mimicking a nuclear disaster such as the Fukushima Daichi incident where the nuclear reactors had been flooded with seawater. The test would help to better understand the effects of seawater on cooling reactor fuel rods.
To mimic the actual circumstances of the incident, UltraFlex heated stainless steel ball bearings inside of a quartz tube, using their compact 5 kW induction heating equipment from the UltraFlex UltraHeat SM series. UltraHeat SM are modular heating systems, easy to maintain and service, operating with either water-cooled or air-cooled remote heat station.
At its maximum output of 5 KW, the induction heater heated to the target temperature of 140◦F (60◦C) a sample of stainless-steel spheres immersed in water. The ball bearings transferred their energy to the water passing through the quartz tube, resulting in heated exiting water. The researchers could then use neutron beam imaging of the process to study the salt deposition from the boiling water and better understand the effects of seawater on reactor cooling.
This UltraFlex test application was just one of the numerous occasions where induction heating was successfully used to support complex materials research and testing. The testing process was fast, energy- and cost-efficient. Finally, the heating had been completely safe for the operator, with no smoke, waste heat, and noxious emissions.
Find out more at: https://ultraflexpower.com/
Contact us at:
+1.631.467.6814
uptnews@ultraflexpower.com
About UltraFlex Power Technologies:
UltraFlex Power Technologies (ultraflexpower.com) offers the most advanced and innovative digitally controlled induction heaters in the industry. Its compact modular and flexible systems are suitable for a wide variety of induction heating, casting and melting applications.
Svetla Markova
Marketing specialist
skype: svet.stoycheva
https://bg.linkedin.com/in/svetlamarkova 
Related