UltraFlex Induction Heater Used to Harden a Steel Gun Barrel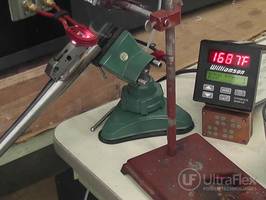 [Sept 11th, 2018] New tests performed by UltraFlex Power Technologies revealed the results achieved when an induction heater was used for hardening of a 4140 steel gun barrel.
The ultimate goal of the tests was to heat a small block section of a gun barrel to 1500◦F (815◦C) and quench it in oil, identifying the best possible induction coil and equipment settings for the process.
An advanced 5-15 kW induction heater from the UltraFlex UltraHeat W series had been used to supply power between 9.51 and 9.73 kW for each of the 4 test scenarios. The final temperature achieved ranged between 1490°F (810°C) and 1730°F (943°C).
The tests performed identified a plate concentrator induction heating coil as performing best in this process - it allowed for shorter heat time and concentrated the heat much better than an oblong coil. Positioning of the part and fixturing were also determined as important factors for optimum performance and repeatability in this heating process.
The tests also showed that multiple heatings of the same part were possible, before quenching the part in oil.
Considering it took as little as 2.2 to 3.5 seconds to complete each induction heating process, all 4 tests were completed and the results from them isolated within minutes. This test application not only proved the time and energy efficiency of induction heaters compared to flame-based heating, but also the ease with which induction heating could be tuned for a variety of manufacturing applications and performance optimized for production purposes.
Find out more at:
Contact us at:
+1.631.467.6814
uptnews@ultraflexpower.com
About UltraFlex Power Technologies:
UltraFlex Power Technologies (ultraflexpower.com) offers the most advanced and innovative digitally controlled induction heaters in the industry. Its compact modular and flexible systems are suitable for a wide variety of induction heating, casting and melting applications.
Related