UltraFlex Induction Brazing Copper and Brass Fittings at 1300 °F (704°C) in 20 sec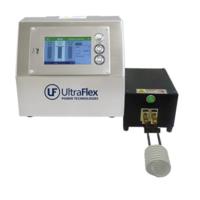 The time- and cost-efficient induction brazing process for an assembly of copper and brass pipes has recently been demonstrated by UltraFlex Power Technologies. UltraFlex - a leading manufacturer of digitally controlled induction heaters - has set up the induction brazing test scenario per request of a manufacturer from the Appliances & HVAC industry who was looking to replace torch brazing with induction brazing. The ultimate goal of this replacement was to achieve a more repeatable, faster and operator-independent induction brazing process for parts that were extensively used in heat pumps, water chillers, chlorine generators and other sensor instruments.
Examining the parameters of the induction brazing process, UltraFlex engineers considered the UBraze hand-held brazing gun and a 15 kW induction power supply as most appropriate for this brazing scenario. UBraze is a mobile induction heating solution that can be used as a hand-held unit or can be integrated with a robotic arm for automated production lines. The durable assembly has an easy-hold grip, and a handle at the top of the unit to maximize stability. It is ideal for induction brazing of small tubes and successfully replaces open flame brazing options by providing focused heat into the desired area.
The induction brazing process for this assembly required a target temperature of 1300 °F(704°C), with manual feeding of the alloy during the brazing process since the high silver composition of the alloy did not allow to use a preform ring. At power of 10 kW, the target brazing temperature was reached and the brazing process completed within 20 seconds, which was far less than the target of 30 seconds. The strong and durable joints achieved were verified by cutting open the brazed samples to examine the penetration depth of the joint.
This induction brazing demo application proved that brazing with induction heating would ensure a much higher joint quality, guaranteed repeatability of the results, precise temperature control and energy efficiency. Compared to torch brazing, this would also be a cleaner and safer process, due to the lack of open flame and noxious emissions.
Find out more at: https://ultraflexpower.com/
Contact us at:
+1.631.467.6814
uptnews@ultraflexpower.com
About UltraFlex Power Technologies:
UltraFlex Power Technologies (ultraflexpower.com) offers the most advanced and innovative digitally controlled induction heating equipment in the industry. Its compact modular and flexible systems are used for a wide variety of induction heating, casting and melting applications.