Ultracapacitor Cell carries 3 V, 3,000 F ratings.
Press Release Summary: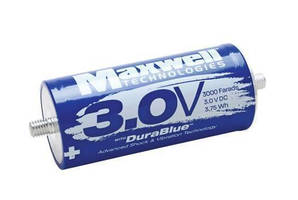 With threaded terminals that facilitate implementation, BCAP3000P300K04 provides up to 20 kW/kg specific power and up to 4 Wh stored energy in 60 mm cylindrical design. Electrostatic storage capability can cycle 1 million charges and discharges without performance degradation, and DuraBlue™ shock/vibration technology lends to operational durability. Applications include hybrid/plug-in hybrid bus, grid energy storage, rail, automotive, industrial equipment, UPS, and telecom systems.
---
Original Press Release:
Richardson RFPD Introduces New 3V, 3000-Farad Ultracapacitor Cell from Maxwell
Newest addition to K2 family of ultracapacitors

Geneva, Ill.: Richardson RFPD, Inc. announced today the availability and full design support capabilities for a new ultracapacitor cell from Maxwell Technologies.

The BCAP3000P300K04 is Maxwell's first 3-volt cell and the newest addition to the K2 family of products. The 3V cell provides higher energy density in the same industry standard 60 mm cylindrical design and an electrostatic storage capability that can cycle a million charges and discharges without performance degradation. The cell is available in quick- and easy-to-implement threaded terminals.

It is suitable for a range of applications, including hybrid and plug-in hybrid bus, grid energy storage (stationary), wind turbine pitch control, rail (onboard or wayside), automotive (including hybrid vehicles), heavy industrial equipment, and UPS and telecom systems.

According to Maxwell, additional key features of the BCAP3000P300K04 include:
• DuraBlue™ advanced shock and vibration technology
• Up to 1,000,000 duty cycles or 10 year DC life*
• Up to 20 kW/kg of specific power*
• Up to 4 Wh of stored energy*

*Please refer to datasheet

To find more information, or to purchase this product today online, please visit the BCAP3000P300K04 webpage. The device is also available by calling 1-800-737-6937 (within North America); or please find a local sales engineer (worldwide) at Local Sales Support. To learn about additional products from Maxwell, please visit the Maxwell storefront webpage.

FOR DETAILS CONTACT
Dave Rossdeutcher
Global Product Management Director – Energy & Power
drossdeutcher@richardsonrfpd.com
P 630 262 6800

About Richardson RFPD
Richardson RFPD, an Arrow Electronics company, is a global leader in the RF and wireless communications, power conversion and renewable energy markets. It brings relationships with many of the industry's top radio frequency and power component suppliers. Whether it's designing components or engineering complete solutions, Richardson RFPD's worldwide design centers and technical sales team provide comprehensive support for customers' go-to-market strategy, from prototype to production.

More information is available online at www.richardsonrfpd.com.

Follow Richardson RFPD on Twitter at www.twitter.com/Richardson_RFPD
More from Machinery & Machining Tools