Two Industry Awards for Viscom's High-Speed 3D AXI 7056-II at Nepcon China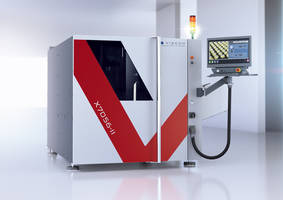 Shanghai, April 2018 – Nepcon China – Viscom, a leading German manufacturer of high-quality inspection systems for the electronics industry, is very pleased to announce that their innovative high-speed 3D AXI inspection system X7056-II has been recognized with two significant industry awards at Nepcon China: the 2018 SMT China Vision Award and the EM Innovation Award.
Both Awards have recognized the new X7056-II as a benchmark for excellence. Entered products were judged on their innovativeness and their contribution to facilitating downstream industry to reduce costs, improve product quality, increase production efficiencies and enhance product reliability.
The Awards were received by Viscom's CEO Volker Pape. "We are very proud to have the X7056-II being distinguished in a very competitive environment,…, and are particularly happy to see that our system is well received within the Chinese Market.", he states.
The EM Asia Innovation Awards ceremony took place on April 25 in the Shanghai World Expo Exhibition & Convention Center, just one day after Viscom received the SMT China Vision Award at the same location. After the 2018 NPI Award and the 2017 Productronica innovation award these are now two more prizes for Viscom's next-generation 3D AXI system X7056-II. 
The X7056-II was designed according the latest Industry 4.0 and smart production requirements. It comes with a whole array of new intelligent and interconnected software tools facilitating full line integration and smart statistical process control. The system is equipped with xFastFlow, Viscom's latest innovation for high-speed handling. Three PCBs can now be processed simultaneously, reducing the handling time (board infeed and outfeed) to under four seconds. Due to the time saved, 3D inspections, which used to be done selectively, can now be expanded from selected components to almost a 100% 3D inspection within line cycle time
Furthermore, new state-of-the art planar CT software algorithms allow for highly accurate 3D digital reconstructions of the most challenging objects and interfering structures are reduced more effectively. With the X7056-II, layers from double-sided PCBs with complex overlap of components can be mathematically extracted and defects can be revealed more precisely and easily than ever before.
Customers can opt for a combo version of the system which integrates automatic optical inspection (3D AOI) next to 3D AXI in the same machine housing. The X7056-II can therefore also offer the high optical inspection depth of the newest Viscom AOI solutions, and this with comparable throughput. By taking advantage of the third dimension in AOI, users have the benefit of an unshadowed view of all components and solder joints.
About Viscom
Viscom AG develops, manufactures and sells high-quality inspection systems. The portfolio encompasses the complete bandwidth of optical and X-ray inspections. In the area of assembly inspection for electronics manufacturing, the company is among the leading suppliers worldwide. Viscom systems can be configured specifically to the customer and can be interlinked. The company headquarters and manufacturing location is in Hanover, Germany. With a wide network of branches, applications centers, service support points and representatives, Viscom is represented internationally. Founded in 1984, since 2006 Viscom has been listed on the Frankfurt Stock Exchange (ISIN: DE0007846867). For additional information: www.viscom.com
More from Architectural & Civil Engineering Products