Turning Tool Grade works with nickel-based super alloys.
Press Release Summary: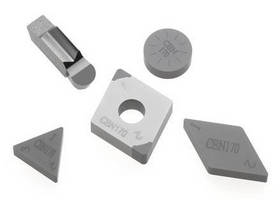 Developed for finish turning of nickel-based super alloys, CBN 170 grade is optimized for toughness and wear-resistance that can help increase tool life and cutting speed. It incorporates whisker ceramic binder and satisfies surface finish, tolerance, and length of cut requirements found in finishing operations. Designed for continuous cutting applications, product can achieve depths of cut up to 0.020 in. at cutting speeds from 900-1,300 sfpm.
---
Original Press Release:

Seco Tools New Grade CBN 170 Optimized for Turning Nickel-Based Super Alloys



Troy, Mich. -- Seco Tools has announced the availability of its new CBN 170 grade, the first PCBN grade ever developed specifically for the finish turning of nickel-based super alloys commonly found in aerospace, power generation and automotive components. Designed for both toughness and wear-resistance, CBN 170 works well in materials such as Inconel 718, UDIMET, Waspaloy, MAR M and others. In field tests run using CBN 170, it has increased tool life by 40% and cutting speed by 45% as compared to whisker ceramics.

Designed to satisfy the exacting surface finish, tolerance and length of cut requirements typically found in finishing operations for nickel-based super alloys, CBN 170 incorporates a unique whisker ceramic binder, which enhances tool life and reduces insert indexes. These whiskers of silicon carbide crystals add tensile strength and fracture toughness to the grade.

The new grade can be applied to finish machining of hardened and unhardened nickel-based superalloys from cast, forged, powdered metal or machined from solid source. It can achieve depths of cut up to 0.020" at cutting speeds of 900 - 1300 sfpm. Designed for continuous cutting applications, coolant must be applied to the operation.

To further enhance tool life, Seco recommends the use of its Jetstream tooling, which delivers coolant at high pressures close to the cutting edge, cooling the work area and producing smaller, hard, brittle chips.

For more information on CBN 170, visit www.secotools.com/CBN170 or email secotools.us@secotools.com

More from Machinery & Machining Tools