Turbocor® TT Series Compressors are suitable for chiller manufacturers.
Press Release Summary: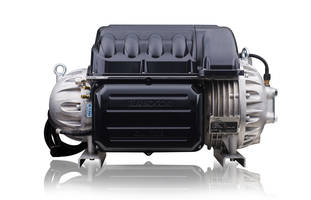 Turbocor® TT Series Compressors come with compressor firmware version 4.1 which is compatible with R-513A refrigerant option. Units are available with HFO-1234ze in a capacity range of 40 to 150 tons. Products are suitable for air-cooled heat pumps, ice storage and low-temperature process cooling applications. Compressors meet European Union's F-gas regulation standards and
---
Original Press Release:
Danfoss Introduces Low-GWP R-513A Refrigerant Option and Low Lift Capability for Danfoss Turbocor® TT Series Compressors
TALLAHASSEE, Fla. – Danfoss, the world's leading manufacturer of Danfoss Turbocor® oil-free, variable speed, magnetic bearing centrifugal compressors, has added to its portfolio of low-GWP (global warming potential) compressors by introducing an option to use R-513A, and expanded its operating map range to cover low lift applications for the TT Series compressor family.
Danfoss Turbocor® compressors are engineered and manufactured in Tallahassee and deployed around the world to help buildings reduce energy consumption and costs.
New low-GWP refrigerant option
R-513A is a low-GWP, non-flammable (A1) alternative refrigerant to R-134a that allows chiller manufacturers to meet future HFC regulations, such as the European Union's F-gas regulation. All Turbocor® TT Series compressors produced starting in December 2017 with compressor firmware version 4.1 will be compatible with both R-134a and R-513A. Existing Turbocor® TT Series compressor revision F models using R-134a can be retrofitted to use R-513A by simply changing the electronic controllers.
This new refrigerant option broadens Danfoss' comprehensive portfolio of Turbocor® compressors using low-GWP refrigerants. In addition to the TT Series compressors, Danfoss already offers the Turbocor® TG Series compressors that use ultra-low- GWP refrigerant HFO-1234ze. Similar to R-513A, HFO-1234ze allows chiller manufacturers to be in compliance with upcoming refrigerant regulations that restrict the use of HFC refrigerants.
In summary, the following Danfoss Turbocor® compressors now use low-GWP refrigerants:
Available with HFO-1234ze: Danfoss Turbocor® TG Series Compressors – 40 to 150 tons
Available with R134a and R513A: Danfoss Turbocor® TT Series Compressors – 60 to 200 tons
New low lift capabilities
Danfoss also has expanded the operating range of its Turbocor® TT Series compressors to support low lift applications such as air-cooled heat pumps — enabling chiller manufacturers to expand their product offering to cover even more air-conditioning and process applications. The low lift operating range allows chillers to start and operate at low condenser water temperatures that are common during cold ambient temperature conditions and gives manufacturers the flexibility to eliminate the use of expensive economizers on chillers.
"By expanding the use of low-GWP refrigerants — including the new low-GWP R-513A refrigerant option and the existing ultra-low GWP HFO-1234ze refrigerant, Danfoss Turbocor® TT Series compressors can continue to be a future-proof, environmentally-friendly solution today that complies with evolving refrigerant regulations and standards around the world, including the European Union F-gas regulation. And with the expanded low lift capability, chiller manufacturers have the flexibility to benefit from the high-efficiency variable speed, oil-free operation of Turbocor® TT Series compressors in even more air conditioning applications," said Jose Alvares, Vice President, Sales and Marketing, Danfoss Turbocor Compressors.
"Danfoss is committed to taking a proactive approach to energy-efficiency, sustainable technologies by offering multiple low-GWP refrigerant options," Alvares said. "The low-GWP refrigerant offering combined with innovative oil-free, magnetic bearing technology provide the best solution for our customers to meet environmental regulations today and in the future."
For more information about Danfoss Turbocor Compressors, please visit www.turbocor.danfoss.com.
Danfoss engineers technologies that enable the world of tomorrow to do more with less. We meet the growing need for infrastructure, food supply, energy efficiency and climate-friendly solutions. Our products and services are used in areas such as refrigeration, air conditioning, heating, motor control and mobile machinery. We are also active in the field of renewable energy as well as district heating infrastructure for cities and urban communities. Our innovative engineering dates back to 1933 and today Danfoss is a world-leader, employing more than 25,000 employees and serving customers in more than 100 countries. We are still privately held by the founding family. Read more about us at www.danfoss.com.