Turbo Pump goes from atmosphere to high-vacuum.
Press Release Summary: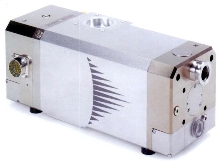 Used as standalone unit or as backing pump for turbopumps, OnTool(TM) Booster pump provides one-pump solution for achieving high vacuum. It eliminates need for backing pump due to its pumping speed of 130 m³/h and pressure of less than 1 x 10-5 mbar. Suited for clean applications that operate without any particulate matter, corrosive gases, or condensation, product produces minimal vibration level, which prevents wafer or critical parts movement.
---
Original Press Release:
Pfeiffer Vacuum Introduces the OnTool(TM) Booster Pump - The First Turbo Pump that Goes from Atmosphere to High Vacuum
Pfeiffer Vacuum, one of the world's leading producers of vacuum products and services, introduces the OnTool(TM) Booster pump, the first turbo pump that goes from atmosphere to high vacuum. The OnTool(TM) Booster pump is ideal for clean applications that operate without any particulate matter, corrosive gases or condensation. Its applications range from load locks in the semiconductor industry to industrial coatings and research and development. In addition, this pump can be used as a standalone pump or as a backing pump for turbopumps. Until now, achieving high vacuum for many applications required a combination of high-vacuum pump and a backing pump. The OnTool(TM) Booster pump is a one-pump solution that eliminates the need for a backing pump. This is due to its extremely high pumping speed of 130 m³/h and an ultimate pressure of < 1 x 10-5 mbar. The OnTool(TM) Booster pump has a low vibration level that prevents wafer or critical parts movement and a compact size the permits direct mounting to tool. All these features add up to a high performance vacuum pump with a low facilitation cost. Pfeiffer Vacuum, Inc., develops, produces and markets key components for vacuum technology used in semiconductor fabrication, optical and thin film deposition, such as flat panel displays and TV monitors, analytical instrumentation, high energy physics, and research and development. Pfeiffer Vacuum offers an extensive range of vacuum pumps, vacuum gauges, leak detectors, mass spectrometers, and accessories such as valves, fittings and flanges. Pfeiffer Vacuum North American operations offer marketing, sales, field services, repair, customer training, and applications and support. Sales and support functions are located throughout the U.S. with a major customer support center in Milpitas, California, in the heart of the semiconductor industry. For further information, contact: Philip Tremblay, Product Manager, Pfeiffer Vacuum, Inc., 24 Trafalgar Square, Nashua, NH 03063-1988; Phone 603-578-6500; Fax 603-578-6550. Web site: pfeiffer-vacuum.com; E-Mail: ptremblay@pfeiffer-vacuum.com
More from Sensors, Monitors & Transducers