Tube Pump can be mounted in any direction.
Press Release Summary: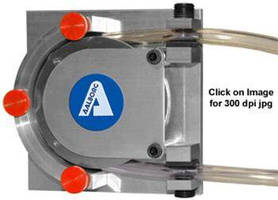 Suited for liquids of low to medium viscosity, self-priming, compact Model TPU tube pump utilizes chemically resistant tubing materials and peristaltic pump head technology. Four stainless steel rollers (eight roller option is available) minimize pulsation and promote long tube life. Pump features sturdy occlusion wall and back plate and fixed rpm ac gear motors. Tubing ID offered are 1/8, 3/16, ¼, or 5/16 in., each with 1/16 in. wall thickness.
---
Original Press Release:
NEW Low Cost Tube Pump
Aalborg®'s NEW Model TPU tube pumps are ideally suited for liquids of low to medium viscosity. Chemically resistant tubing materials and new peristaltic pump head technology combine to meet the demands for reliable, long-term pump operation. Four stainless steel rollers (eight roller option is available) minimize pulsation and promote longer tube life. The TPU's tube set-up, changes, and replacements are quick and easy. Tubing inside diameters offered are 1/8", 3/16", ¼", or 5/16 ", each with a 1/16" wall thickness The size and material of the tubing chosen, as well as the selected fixed RPMs of the motor drive, determine the flow rate. Pumped fluid never touches the pump. This economical model delivers smooth, precise operation and virtually eliminates maintenance problems. Pump Design Features Include: o Sturdy occlusion wall and back plate. o Self-priming. o Compact, small foot print design. o Mountable in any direction. o 115V or 230V service. o Fixed RPM AC Gear Motors. Industry-specific applications include: Science and research, OEM, Processing, Engineering, Agriculture, Analytical Chemistry experiments, Pharmaceutical production, Sewage sludge, Paint and pigments, Pulp and paper, Food manufacturing, Beverage dispensing, and Carbon monoxide monitors. For more information contact: Aalborg® Instruments 20 Corporate Drive Orangeburg, New York 10962 USA Phone: +1 (845) 770-3000 Fax: +1 (845) 770-3010 E-mail: info@Aalborg.com Web: www.Aalborg.com
More from Electrical Equipment & Systems