Tube Expander Kits are fitted to user requirements.
Press Release Summary: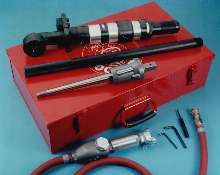 MILLHOG® Rolling Motor and Tube Expander Kits accurately control tube expansion and create tight mechanical seal between tube OD and tube sheet. They include choice of rolling motor types, custom sized tube expanders from 3/8 to 4 ½ in. O.D., hose whip with in-line air filter, oiler, wrenches, and operating instructions. Air-powered motors have torque limits that can be preset from 25 to 325 lbs-ft.
---
Original Press Release:
Rolling Motor and Tube Expander Custom Kits are Fitted to User Requirements

A line of rolling motor and tube expander kits that can be customized to user requirements for fabricating and maintaining boilers, heat exchangers, and condensers is available from ESCO Tool of Medfield, Massachusetts.

Esco MILLHOG® Rolling Motor and Tube Expander Kits are designed to quickly and accurately control tube expansion and create a tight mechanical seal between a tube O.D. and the tube sheet. They include a choice of rolling motor types, custom sized tube expanders from 3/8" to 4-½" O.D., hose whip with an in-line air filter, oiler, wrenches, and operating instructions.

Featuring air-powered motors with torque limits that can be preset from 25- to 325 ft.-lbs., depending upon the motor selected, Esco MILLHOG® Rolling Motor and Tube Expander Kits are available with flare-straight and straight expanders and adjustable collars. Motors include lever throttle, roll, and stall types for use with any material, including stainless steel.

Esco MILLHOG® Rolling Motor and Tube Expander Kits are priced from $3,195. and can be rented for $300. up weekly. Literature is available on request.

For more information contact:

ESCO Tool

A Unit of Esco Technologies, Inc.

Matthew Brennan, Marketing Director

50 Park St. / P.O. Box 530

Medfield, MA 02052

(800) 343-6926 FAX (508) 359-4145

e-mail: millhog@escotoolo.com

www.escotool.com
Related